Post by GhostComanche©® on Jan 25, 2021 22:07:09 GMT
Stripers getting bigger at Smith Mountain Lake
by Bill Cochran at
Roanoke Times
| July 19, 2016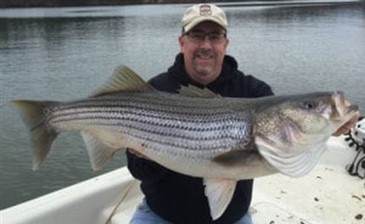 Old timers can remember the glory days of striped bass fishing at Smith Mountain Lake, when large schools of fish fed on the surface, tossing water as high as July corn.
At night, the stripers would wallow in the shallows, sounding like hogs taking a bath.
About every other year someone would bring to the scales a state record. There were five records set from December 1985 to February 1995, all over 40 pounds.
Then came a fish kill in the early 2000s.
The fishery hasn't come close to returning to its peak, and probably never will, but it has seen improvements recently, most noticeably in the number of big fish caught, including a sprinkling of 30-pounders.
"The lake has a good population of stripers," said Dale Wilson, who has seen good years and bad as a professional fishing guide since 1969. "The overall size of the fish seems to be getting larger."
Mike Ward agrees. He is president of the Smith Mountain Striper Club.
"We are encouraged to see larger fish showing up," he said.
Ward caught a 25.5-pounder in March, the largest in the club's 2016 big-fish competition. It measured 38.25 inches.
Dan Wilson, Department of Game and Inland Fisheries biologist in charge of the striper program, considers the fishery to be "in good condition," but not without its challenges.
Since striped bass do not reproduce in the 20,000-acre lake, the fishery depends on annual releases of hatchery-reared fish. Knowing just the right number to stock is tricky at best. Too many stripers can cut into the food base, which slows their growth and can have an adverse impact on other sport fish.
Add to that, the Vic Thomas Hatchery in Brookneal routinely seems to face challenges that threaten its production, yet it manages to get the job done. It was no different this spring.
"It started out, we had a hard time collecting females," Dan Wilson said.
Striped bass from downstream Kerr Reservoir each spring bull their way 40 miles up the Staunton (Roanoke) River to the Brookneal area where they cast their eggs and milt to the river's flow.
Some fish are netted by the hatchery staff and placed in circular spawning tanks. The resulting fry go into rearing ponds, where they grow to fingerling size (one-to two-inches) and then are shipped to Smith Mountain.
The hatchery operation was challenged this spring by water temperatures that often stayed below the preferred spawning range, said Wilson. The cool spring temperatures also retarded algae and plankton production in the rearing ponds, which is food for young stripers.
Even so, with support from the King and Queen Hatchery in Eastern Virginia, officials released 317,268 fingerlings in Smith Mountain, and under a new stocking procedure designed to increase survival. The count was slightly more than the 300,000 Wilson had requested; still, it was the third lowest stocking in a decade.
​Many anglers don't like reduced stockings, but they are necessary to enhance good striper growth through a healthy supply of food in the form of shad. If that can be accomplished, "we will be making great progress," Wilson said.
While Ward believes larger stripers have been showing up this season, the consensus among anglers is that the overall 2016 catch rates are down, he said. He isn't certain what to blame that on: cooler spring weather, fewer stripers, or competition from a larger shad population.
"We need a strong population of younger fish to continue to yield larger fish in the future," he said.
One way anglers can help, Ward said, is to understand that catch-and-release has a high mortality during the hot-weather months.
"Many anglers do not realize that the fish they release in the peak of the summer likely die," Ward said. "Anglers think they are doing the right thing by releasing the fish, but if they catch-and-release a bunch of fish they do more damage to the fishery than if they kept their limit [of two] and quit. If we all want a thriving fishery, it is important to understand the impact that summer time catch-and-release can have."