Post by GhostComanche©® on Jan 25, 2021 21:47:39 GMT
A-rigs catching Stripers at Smith Mountain Lake - Here's how
by Bill Cochran at
www.Roanoke.com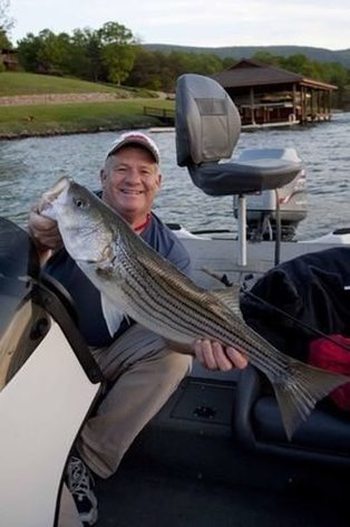 The most talked about largemouth and smallmouth bass fishing lure — the A-rig — quietly has earned space in the tackle boxes of veteran Smith Mountain guide Dale Wilson.
Just so everyone knows what we are talking about, the lure also is called the Alabama-rig, the umbrella-rig and the U-rig. It allows an angler to fish three or five plastic lures or spinnerbaits at the same time, which can look like a school of baitfish coming through the water.
The A-rig blasted onto the black bass fishing scene the fall of 2011 and quickly drew praise and controversy. It was deemed illegal in tournaments on the FLW Tour. Anglers were forbidden to use it during the recent GEICO Bassmaster Classic.
But it is perfectly legal in Virginia, and while it may not live up to all the hype that has surrounded it, it is worth a try.
When the A-rig began to be mentioned regularly in Wilson's fishing report, I asked him to address some basic questions on how and where to use it, and what equipment is required. He agreed but was quick to say, "It's not one of my favorite methods to catch stripers or bass." Casting seven lures at one time is a lot like work.
By the way, prepare to weep when you break off an A-rig. They can cost you in excess of $10 apiece. Mann's has a new one that sells for $21.99 at the Bass Pro Shops.
Here are Wilson's remarks:Q.
What type A-rig do you use?
A.
I've had better success with the three-wire rig for stripers but also use the five-wire rig. I don't have a preference of brands. I do prefer small wire size in clear water.
Q.
What lures do you attach to your A-rig?
A.
I prefer 3- to 5-inch quality swimbaits. Many other plastic shad imitations will work. I will stick to shad colors mainly when the water is clear, and sometimes will use lures with chartreuse when fishing colored water.
Q.
What kind of equipment do you use to fish an A-rig?
A.
You need a heavy-action rod that is 8 to 9 feet, a quality bait-casting reel and braid line of 60- to 80-pound test.
Q.
What kind of areas do you target?
A.
I am targeting areas where there is an abundance of baitfish present. Standing timber and blow-downs near deep water are also good targets. The A-rig works in both open water and structure.
Q.
What depths and water temperatures are you fishing?
A.
It seems to be more effective in depths of 5 to 25 feet. It works best when the water temperatures are below 60 all the way to the low 30s.
Q.
What kind of retrieve works best?
A.
The best retrieve is usually a slow, steady one. Sometimes I use a stop-and-go retrieve, and you also can vertical jig the rig at the depth you are seeing baitfish on your electronics. You can use it near the tops of standing timber.
Q.
Why do you think the A-rig is so appealing to both stripers and black bass?
A.
I think what makes it appealing to most game fish is that it imitates a school of baitfish.
Q.
Tell us about one of the best days you can remember fishing an A-rig?
A.
One of my best, I caught seven big largemouth bass and five stripers weighing 10 to 12 pounds.
Q.
How would you describe the current striper fishing on Smith Mountain Lake?
A.
Currently striper and bass fishing is fair. The next several weeks should be some of the best fishing this season.