Post by GhostComanche©® on Jan 25, 2021 21:17:25 GMT
Guide Tactics for Winter Striper
by Captain C.C. McCotter at
Woods and Waters Magazine
/ February. 2004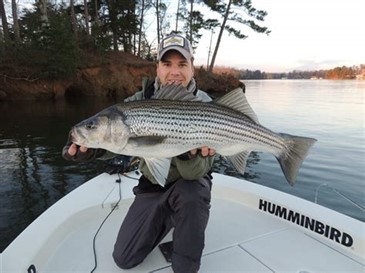 One of the most popular and growing aspects of fresh water angling is the pursuit of land locked stripers. These notoriously finicky cousins of saltwater rockfish have been stocked over the years in many of the man-made lakes in our region and are thriving today.
Take a moment to count the number of center console rigs on the lake thenext time you are out and you might be surprised. While, striper fishing can be accomplished in a variety of boats, from center console to bass, pontoon to aluminum, you do have to have them rigged right and know how to fish and know where the fish are and know how to present bait or lures to them, etc....
Do you like a challenge? Well, here's some advice from top guides around the region you might want to heed as you get geared up to catch stripers over the next few months.
Spike & Kathy Franscecini have guided on Smith Mountain Lake for almost 20 years. They've seen 40+ pounders come to the boat and others even bigger become snagged in the lake's numerous submerged trees. This husband and wife guiding duo know that keeping good records and using the right tackle is important when first starting out.
"We have kept some detailed logs of our trips over the years," says Capt. Kathy, "And when we had enough to start studying, we noticed the seasonal patterns usually repeated themselves within three weeks." From their logs, the Franscecinis know where to be at what time of the year to catch bait and to find stripers. If adjustments are necessary, it's usually just a bit of fine tuning, they say.
As far as tackle goes, these guides like it heavy. Trilene XT in 17-20 test is necessary to even have a chance at a big fish when fish around the lakes submerged forests. Heavy action rods and bait clicker reels accommodate the strong line. They don't even allow the fish to pull the clicker alarm, instead they keep the reel engaged and listen for a subtle click of the reel as anti-reverse is engaged on the strike.
John Goyne is an artificial lure specialist guiding on Smith Mountain Lake. He rarely uses live baits on his guided trips. Over the past 10 years he has observed some important constants for beginners to remember. "One of the most important things to remember when using artificial lureson Smith Mountain Lake is not to use a real big lure. Anything over 1/2-ounce is usually too big here. You want your lure to have a natural presentation, not
to fall too fast.
"I use heavy duty bass rods and reels for striper fishing -- heavy action, seven-foot rods and 12-14 pound green Stren. Line heavier than this will create unnatural presentations, too," explains Goyne.
This lure striper guides sticks with 1/4- to 3/8-oz. lures depending on how deep he needs to fish. He says beginners should stock a good bucktail in this size range. His favorite has short hair and chartreuse, gray or blue feathers. Goyne does not use a trailer. 3/8-oz. jig heads with a ZOOM Super Fluke or Super Fluke Jr are also favorite lures for this Smith Mountain Lake guide.