Post by GhostComanche©® on Jan 25, 2021 17:11:16 GMT
Smith Mountain Lake: Top Area Striper Water
by Walter Claxton at
www.gameandfishmag.com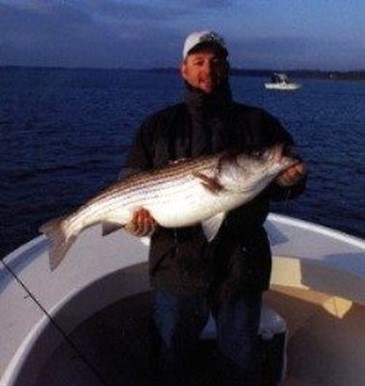 Last year was not the best for SML. An infestation of parasitic copepods, a poor spawn, a lack of threadfin shad -- for whatever reason, it was a tough year. 2004 has been different. Smith Mountain's famed striper fishery looks to be on the rebound. While the 50-pound fish it once produced won't be back for a while, things are looking good for an excellent fall season.
Spike and Kathy Franscenini have called Smith Mountain Lake home for the past 20 years. They operate Spike's Prime Time Fishin' from their lake side home. They know SML stripers.
In October and November, Capt. Kathy notes the stripers will mostly be deep. Yes, you read it right -- deep. Sure there are some breaking fish that will stay up through the end of October, and you can chase these around all day with lures or hope to get in front of them with bait. But the money's on Spike and Kathy who will target larger schools of deeper fish.
A typical morning set for Captain Kathy includes four downlines (20-30' deep), two planer boards and two freelines.
"They hit the lower stuff as they are coming up. They hit the planers as they are feeding and then go back again," the female portion of the Franscenini duo told W2. "They really can be all over the water column this time of year. Definitely leave the planer boards out during the day."
While the tactics aren't really different from the summer, the Fransceninis will refocus on the upper end of Smith Mountain. The Hales Ford Bridge to the Hardy Bridge region is where they'll be. If you want to try your hand at some tricky navigation, fish on up to the Bay Roc region.
Main channel points in the upper portion of SML are your bet over the next two months. Once the small gizzard shad move to the back of the creeks, that's where a lot of the fish will go. Kathy suggests trying Stoney, Indian, Hatfield, Beaverdam and Lintonville Creeks for this pattern.
Trolling has been extremely effective on Smith Mountain this year. The umbrella rig has been the top choice of local anglers, says Capt. Kathy. The key is fishing them on 60-pound braided line and tipping them with lime green Sassy Shads around a large bucktail. Getting this offering down to 18-20' is also important. Schoolies are what is mostly caught using this pattern, but the bite is consistent and fierce.
Those that want to catch SML stripers on lures should use white/pearl Zoom Super Flukes. The Fransceninis have done very well with this lure using it in a variety of retrieves and presentations. Rigged on a 3/8-oz. jig head you can fish them on the drop, jerk them, swim them or vertically jig them.
How does Kathy feel the lake is doing after the copepods?
"[Copepods] are almost non-existent now. This year has been pretty much a normal year except for a volatile spring season. The power generation schedule has changed a lot, so this is the major reason why we are re-learning fish patterns," she says, "I feel that there are still some big fish left in the lake."
A average morning with the Franceschinis on Smith Mountain now produces 10 fish. Twenty-fish days are not uncommon.
​