Post by GhostComanche©® on Jan 25, 2021 17:05:10 GMT
Smith Mountain Lake....Striper Fishing Opportunities
by the Virginia Department of Wildlife Resources at
www.DWR.virginia.gov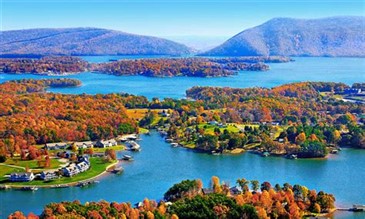 Stripers are distributed throughout the lake during most of the year but are concentrated in lower lake areas during the summer and early fall months. Coves are typically not very productive for striped bass during the summer months so anglers should concentrate their efforts on the main lake when water temperatures begin to rise. However, the backs of coves, which contain flowing streams, can be productive during the late fall, winter and early spring months. Look for schools of shad in these areas especially during warming trends when the streams are warmer than the reservoir. Striped bass anglers utilize a variety of fishing methods such as drifting live bait, trolling plugs and bucktail jigs, or casting top water lures. Anglers use live bait throughout the year, trolling is most popular during the warmer months, and casting top water or shallow running plugs is most productive in April – June at night. Most striped bass are caught between the dams and buoy 64 of the Roanoke Arm and up to buoy 40 of the Blackwater Arm. Although these are the general areas most striped bass are caught, these fish are very mobile and may change locations continuously depending on forage availability, water temperatures, and spawning.
Anglers should not practice catch-and-release for striped bass during the summer months. The Virginia Department of Game and Inland Fisheries encourage striped bass anglers to quit fishing after catching their limit in the months of June-September (see Regulations section for split season regulations). Most of these fish released during the summer months will not survive! There is a slot limit for striped bass from November through May to maintain the trophy aspect of this fishery. This slot limit requires all striped bass caught between 30-40 inches to be released. Contact the VDGIF regional office in Forest, Virginia, for more details on how to practice effective catch-and-release for striped bass.
A striped bass tagging study was initiated in the fall of 2001 to provide biologists with information on striped bass catch rates, harvest rates, movement, survival, and population dynamics. The fish tags are yellow and approximately three inches in length. The tags are attached to the abdominal area or near the dorsal fin of the fish and should be easily recognized without dissection. Tagged fish do not have to be harvested to collect the reward. Cut or clip tags (do not pull tags loose) from fish you wish to release. Anglers are encouraged to submit all tags collected from striped bass to the address printed on the tag. There is a reward of $5-$50 for all returned tags. See the "News" section for more tagging study information.