Post by GhostComanche©® on Jan 25, 2021 15:48:26 GMT
Stripers on the Staunton River
by Jim Brewer at
The Daily Progress
| May 2, 2013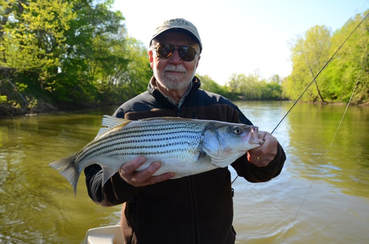 There are only a handful of successful spawning populations of freshwater striped bass in the United States.
One exists here in Virginia at Buggs Island Lake. Each spring, the Buggs Island stripers make a run up tributaries like the Staunton River and pull off a spawn. The Game Department has been intercepting the larger females for years, stripping their eggs, fertilizing them and releasing the future roe into their Brookneal Hatchery. It is with these fry that Virginia lakes like Anna, Gaston, Smith Mountain and others are stocked with striped bass.
Why are these stripers successful while most other populations aren't? No one knows for sure, but it is assumed that some of the striped bass out of Roanoke Sound were trapped in Buggs Island when the Kerr Dam was formed back in 1952. Each year since, the landlocked "line-sides" have made their way upriver and found conditions suitable for successful spawns.
The Staunton River is actually an extension of the Roanoke River, the same river that feeds the Roanoke Sound. From Brookneal to Leesville Dam, it is called the Staunton. Below Brookneal, it is officially the Roanoke River — but locals call it the Staunton.
I call it one of the most exciting fisheries in Virginia.
Last week, my friend Glenn Busch from Lynchburg and I hooked up with guide Matt Miles for a productive float from Brookneal down to the middle of nowhere, actually.
We shoved off early in Matt's drift boat, hoping to connect with a huge school of stripers that was seen heading up river out of Buggs. They said it was wall-to-wall stripers. We didn't hit that school, but we found enough willing stragglers along the way to keep things interesting. Glenn used a 9-weight fly rod and boated six nice fish up to 8 pounds. I used spinning gear and landed five fish on Zoom Flukes.
Matt Miles is one of only a few guides to work the Staunton River. Up until mid-May, he concentrates on stripers. After that, it's smallmouth bass. Without a doubt in my mind, the Staunton River is the most underrated smallmouth fishery in Virginia. The food sources in the river are numerous and the smallmouth grow proportionately large: Large as in 6 pounds and better. And very few people fish it.
I had the opportunity to fish the Staunton some 15 years ago with a local landowner. We put in on his property and boated upstream a ways. I was amazed at the clarity of the water and the large number of 15- and 16-inch bass I saw cruising around. We caught lots of nice fish
.
Matt is comfortable guiding his clients with fly rods, conventional tackle or both. He is a skilled instructor, guiding for several years in Colorado. He can show a novice how to cast a fly with the possibility of hooking up with the largest freshwater game fish of the angler's career. The Game Department has shocked stripers up to 30 pounds and more on the Staunton River.
There are about three weeks remaining to get in on the striper action, but a whole summer to do battle with the Staunton River smallmouth.