Post by GhostComanche©® on Jan 25, 2021 15:27:08 GMT
Virginia's Baitfish for Striped Bass
by
Wikipedia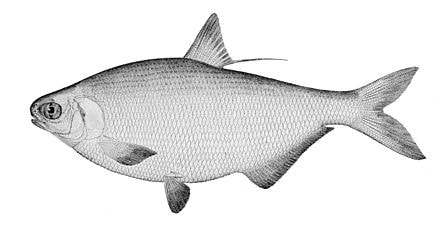 Gizzard Shad
The American gizzard shad (Dorosoma cepedianum) is a member of the herring family of fish, and is native to large swaths of fresh and brackish waters of the United States of America. The adult has a deep body, with a silvery-green coloration above fading to plain silver below. The gizzard shad commonly resides in freshwater lakes, reservoirs, rivers, and streams but can reside in brackish waters, as it does on the Atlantic coast of the United States. Their range is across most of the continental United States, although they typically go no further north than New York and no further west than New Mexico. They are large parts of many of the ecosystems they inhabit, and can drive changes in phyto- and zooplankton, thereby indirectly affecting other planktivorous fishes. The gizzard shad has been widely used as a food source for game fish, with varied success in management and effectiveness.
Physical description
Sketch of Dorosoma cepedianumThe gizzard shad's dorsal fin starts behind the insertion of the pelvic fins, and the last ray is greatly lengthened in adults but not in the young. They have a long anal fin, with 25 to 36 long soft-rays on the fin. The mouth of the gizzard shad has a short, wide upper jaw with a deep notch along the ventral margin, and a weak, relatively smaller lower jaw. The mouth itself is subterminal to inferior (on the lower portion of the head), and the adults possess no teeth. The gizzard shad also has 90 to 275 gill rakers along the lower limbs. Their ventral (pelvic) fins are in the thoracic position, or in the chest region of the fish. The gizzard shad can range from millimeter and milligram size when fry to a maximum recorded length of 477 millimetres (18.8 in) and maximum weight of 1.56 kilograms (3.4 lb). The average length is typically larger in northern waters, and ranges from 284 millimetres (11.2 in) mm at age three years to 399 millimetres (15.7 in) at age 10. They have a highly reduced lateral line system, a feature shared by other members of the herring family. To compensate for this reduction in their mechanical sensory system, they have developed other methods of sensing movement.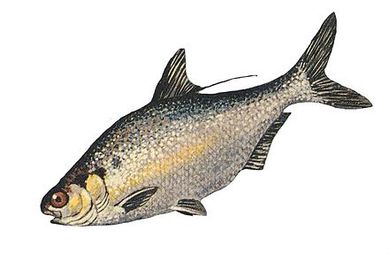 Alewife Shad
The alewife (Alosa pseudoharengus) is an anadromous species of herring found in North America. It is one of the "typical" North American shads, attributed to the subgenus Pomolobus of the genus Alosa. As an adult it is a marine species found in the northern West Atlantic Ocean, moving into estuaries before swimming upstream to breed in freshwater habitats, but some populations live entirely in fresh water. It is best known for its invasion of the Great Lakes by using the Welland Canal to bypass Niagara Falls. Here, its population surged, peaking between the 1950s and 1980s to the detriment of many native species of fish. In an effort to control them biologically, Pacific salmon were introduced, only partially successfully. As a marine fish, the alewife is a US National Marine Fisheries Service "Species of Concern".
Description
Alewives reach a maximum length of about 40 cm (16 in), but have an average length of about 25 cm (10 in). The front of the body is deep and larger than other fish found in the same waters, and its common name is said to come from comparison with a corpulent female tavernkeeper ("ale-wife").
In the North American Great Lakes
Alewives are perhaps best known for their invasion of the Great Lakes by using the Welland Canal to bypass Niagara Falls. Alewives colonized the Great Lakes and became abundant mostly in Lake Huron and Lake Michigan. They reached their peak abundance by the 1950s and 1980s. Alewives grew in number unchecked because of the lack of a top predator in the lakes (lake trout were essentially wiped out around the same time by overfishing and the invasion of the sea lamprey). For a time, alewives, which often exhibit seasonal die-offs, washed up in windrows on the shorelines of the Great Lakes. Various species of Pacific salmon (first coho, and later the Chinook salmon) were introduced as predators. Though marginally successful, this led to the development of a salmon/alewife fishery popular with many sport anglers.
In spite of such biological control methods, alewives remain implicated in the decline of many native Great Lakes species. It is also a common predator of numerous native and non-native zooplankton taxa (Bythotrephes longimanus, Leptodiaptomus ashlandi, Leptodiaptomus minutus, Leptodiaptomus sicilis, and Leptodora kindtii).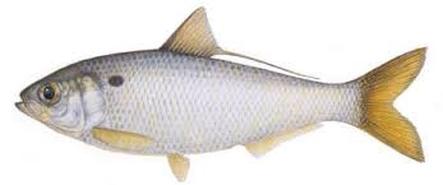 Threadfin Shad
The threadfin shad (Dorosoma petenense) is a small pelagic fish common in rivers, large streams, and reservoirs of the Southeastern United States.
Like the American gizzard shad, the threadfin shad has an elongated dorsal ray, but unlike the gizzard shad its mouth is more terminal without projecting upper jaw. The fins of threadfin shad often have a yellowish color, especially the caudal fin. The back is grey to blue with a dark spot on the shoulder.
D. petenense is more often found in moving water, and is rarely found deep in the water column. It occur in large schools, sometimes with gizzard shad, and can be seen on the surface at dawn and dusk. The threadfin shad may reach lengths of 8 inches, but only rarely.
This fish is very sensitive to changes in temperature and dissolved oxygen, and die-offs are frequent in late summer and fall, especially when water temperature reaches 42 °F.
The threadfin shad is a favorite food for many game fishes including striped bass, largemouth bass, smallmouth bass, and catfishes. This fish is widely introduced throughout the United States as a forage for game fish.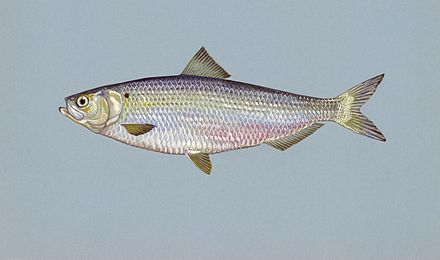 Blueback Herring
The blueback herring or blueback shad (Alosa aestivalis) is an anadromous species of herring from the east coast of North America, with a range from Nova Scotia to Florida. Blueback herring form schools and are believed to migrate offshore to overwinter near the bottom.
These fish are silvery in color, have a series of scutes (modified, spiny and keeled scales) along their bellies, and are characterized by deep bluish-green backs. They reach a maximum size of approximately 40 centimetres (16 in) and are believed to live up to 8 years. The most distinguishing characteristic of this species is the black to dusky in color of its peritoneum (the lining of the abdominal cavity). It is one of the "typical" North American shads. They are often confused with alewifes because blueback shad and alewives are difficult to distinguish from one another, and together these two species are often regarded collectively as "river herring". Alewives have larger eyes, greater body depth, and pearly to white peritoneal linings.
This fish has, in the past, been used as a baitfish for the lobster fishing industry. It is also used for human consumption, usually smoked. It is caught (during its migration up stream) using large dip nets to scoop the fish out of shallow, constricted areas on its migratory streams and rivers.
Range
The native range of this fish is found along the Atlantic Coast from Cape Breton, Nova Scotia, to the St. Johns River, Florida. During spawning season, it migrates into coastal rivers.
Non-indigenous occurrences
Blueback shad were first collected in Lake Ontario in 1995, and have been collected from the Tennessee River in Georgia and Tennessee; Oneida Lake, the Oswego River, and Lake Champlain in New York. In North Carolina, blueback shad were introduced into the Savannah, Broad, and Yadkin River basins, and into non-native areas of the Cape Fear and Roanoke River basins. It has been introduced to an unspecified location in the Chesapeake Bay basin in Pennsylvania. They have been collected in Lake Jocassee, Lake Keowee, Picalet River, Broad River, and Lake Murray in South Carolina.
Stock obtained from the Cooper River, South Carolina, was released in Texas by the Texas Parks and Wildlife Department in Lake Theo, Briscoe County, and at an unidentified research site in North Texas in 1982 (and in the upper Red River drainage). Bluebacks have been collected from Lake Champlain, Vermont, and have been stocked in several inland reservoirs in Virginia, including Smith Mountain Lake, Occoquan Reservoir, Kerr Reservoir, and Lakes Anna, Brittle, and Chesdin. It is established as a species in Texas, New York, North Carolina, Vermont, and Virginia.