Post by GhostComanche©® on Jan 25, 2021 15:01:34 GMT
Coastal striped bass a no-show, but that could be changing
by Bill Cochran at the
Roanoke Times
| February 20, 2018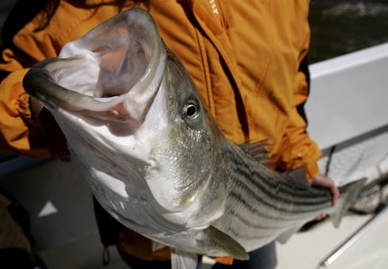 You get an idea of how disappointing fishing for trophy striped bass (rockfish) has become in the Chesapeake Bay and along Virginia's oceanfront when Ric Burnley tells you that he came close to giving up on it.
Burnley is an accomplished fisherman and prolific writer whose work appears in Salt Water Sportsman and other fishing magazines. He lives in Virginia Beach, a city anglers once called "Cowtown" for the massive schools of huge stripers that migrated within sight of its high-rises.
"We used to slow-troll plugs and heavy jigs for big rockfish along the Virginia Beach oceanfront all winter," Burnley said. "To target monster striped bass, we would drift eels along the bayside of the Eastern Shore. For smaller stripers, we'd cast lures along the Chesapeake Bay Bridge-Tunnel or chase clouds of diving birds.
"Now that's all gone."
Just how far gone is underscored by the state-sponsored Virginia Saltwater Fishing Tournament. In 2012, fishermen registered 1,331 citation-size stripers, fish that weighed a minimum of 40 pounds or measured 44 or more inches. Included was a state-record 74-pounder.
Last year, the citation count had crashed to 198, according to Lewis Gillingham, tournament chairman.
The early winter fishery for trophy stripers really never took off in the Chesapeake Bay. November and December traditionally are peak times for catching wall-hanging fish as they migrate down the Atlantic Coast from as far away as Canada, and take a hard right into the mouth of the bay where they shovel in baitfish, or once did.
"One fisherman said he fished the bay for 40 hours to catch a single striper," reported Chris Snook, who operates a popular tackle shop on the southern end of the Eastern Shore.
"There would be 200 boats and I would weigh only about five fish per day," she said.
The largest of the 2017 tournament was a 64-pound, 10-ounce giant landed by Stacy Moose of Manteo, North Carolina, who was baiting with a live eel north of Cape Charles.
When the bay fishing season ended Dec. 31, die-hard anglers turned their attention to the oceanfront but were met with snow and some of the lowest temperatures in history. Launching ramps iced over, the water temperature plunged and fishing took a turn toward being dangerous. Gillingham called it "a short Ice Age."
Never mind. The stripers were a no-show, anyway. They were reported to be well offshore where the food-rich water was warmer and federal law prohibits fishing for them. One of nature's greatest dramas was a no-show for inshore fishermen.
There have been the usual theories as to why citations in 2017 were the lowest since the mid-90s:
Overfishing.
Poor spawning results.
Commercial menhaden boats sucking up baitfish important to stripers.
Changes in the weather patterns.
Declining water quality.
Fish stayed north of Virginia during the bay season.
Fish stayed offshore in protected water during the ocean season.
"Someone needs to look into why the fish aren't coming here like they once did," Snook said.
Old-timers can't help but reflect on the mid-80s when stripers became so scarce the season was closed for five years. The very hint of that happening again is cause for alarm, but there is good news, too.
Fishermen recently have reported a resurgence of young, school-size striped bass.
"We even found a few bigger fish, in the 25- to 35-inch range mixed in with the school-size fish," Burnley said. "Last Saturday night, I caught a 30-inch rockfish and several over 20 around a bridge in the Elizabeth River."
There also are big schools of 20- to 40-pounders offshore being hooked and released by anglers fishing structures for bluefish, tautog, flounder and sea bass.
Lee Tolliver, who writes about fishing for The Virginian-Pilot in Norfolk, expressed a lighter view of the situation.
"People ask me all the time why things have changed. It's fishing, and nothing stays the same."