Post by GhostComanche©® on Jan 25, 2021 14:20:31 GMT
Head up the lake for Gaston's Striped Bass
by Craig Holt at
www.northcarolinasportsman.com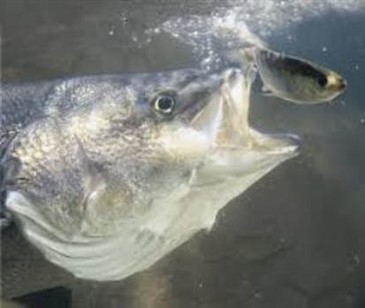 Because of what he calls "a weird year" this spring and early summer, Don Enderle of Tri-Lakes Guide Service said he's quit trolling baits and is casting artificial lures at striped bass in the upper reaches of Lake Gaston, where the species' false spawning toward the tailrace below Kerr Dam is six weeks late.
Gaston's stripers typically head upstream in May to water that's in the neighborhood of 68 degrees, and they finish their false spawn by mid-June.
"I'd been trolling live bait the last couple of weeks for rockfish without much success. We had a cold winter, then two weeks of spring, then it got hot," said Enderle (252-813-8501). "Last Sunday, the water temperature at the upper end of Gaston was in the low 70s. It was 71.3 degrees in the mid-lake area.
"At Gaston, stripers won't go up until it's 72 to 74 degrees, so I thought they'd likely be closer to the water coming out of the bottom of Kerr Lake dam," he said. "So I pulled up my baits and ran to Allen Creek (near Kerr Dam)."
Unable to troll because of an uneven, obstruction-filled bottom, Enderle started casting an Alabama rig at the shoreline, using his trolling motor to cruise stump-filled flats. He landed four stripers between 4 and 5 pounds each and a 1 ½-pound white perch. After he landed the stripers, he trolled east to check more water and never marked any big schools.
Enderle, who in the past has caught more stripers by slow-trolling live baits, believes when the Lake Gaston Homeowners Association began spraying coves and shorelines to kill aquatic grasses like hydrilla and milfoil, it changed baitfish patterns and where stripers pursue food.
"I think most of the shad left shorelines because their cover is gone, so stripers and probably bass are feeding on threadfins and herring in deep water, unless they're up the lake, trying to spawn," he said. "So if you want to catch Gaston stripers now, throw artificial lures at shorelines where you can find water that's 71 to 74 degrees."
The N.C. Wildlife Resources Commission and Virginia Dept. of Game & Inland Fisheries have reciprocal license agreements and limits on Gaston. From June 1 to Sept. 30, fishermen can keep stripers of any size because most fish hauled up from the depths to the surface will likely die from stress, even if they're released. The minimum size for keepers changes to 20 inches from Oct. 1 to March 31.
​
"They figure if the water gets over 80 degrees, caught striper mortality is 100 percent," Enderle said.