Post by GhostComanche©® on Jan 25, 2021 14:07:42 GMT
Lake Gaston: Striper Hotspot
​by Walter Claxton at
www.gameandfishmag.com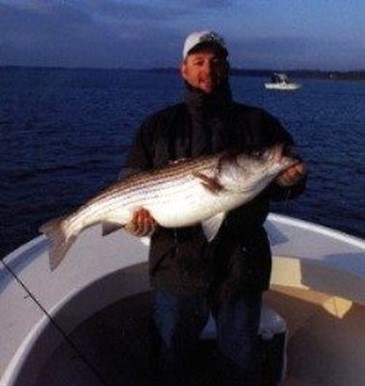 Doug Biggs is the fellow that made news this spring when he landed a 40-4 striper from Gaston this past spring. He also caught two in the 30-pounder class, two 25 pounders and numerous 15-pound fish. So what's the big deal? Well, until Biggs' breakout spring, no one even imagined Gaston had stripers that big.
"From the Spring, I think Gaston is coming on pretty strong. Starting in October 04 the majority of the citation fish produced in Virginia are coming from Gaston according to the VDGIF," Biggs told W2.
The utility contractor knows Spring striper fishing is different than Fall efforts and is looking forward to the challenge.
"I'm not a big Fall fisherman, but I know they're here and I'm going to try and learn them. I concentrate on the upper end of Gaston from Holly Grove Creek up to the Kerr Dam. I had a wonderful Spring in this area, so I hope I the Fall is as good."
A typical day striper fishing on Gaston starts with Biggs checking his dock light for bait, mostly blue back herring. Only with bait tank full will he then head out in search of Gaston's striper. He will typically spend 30-45 minutes per spot, moving when he catches just small fish or when the bite is slow.
"I think Holly Grove Creek, from the bridge out to the main lake, is one of my favorites," notes Biggs. "Hawtree Creek is another good area to try."
In the main, upper section of Gaston, there is a large area these fish frequent. Just above the steel bridge and between the railroad trestle and I-85 is where you might find Bigg's this fall.
For anglers that prefer artificial lures, Biggs says the mouth of Allen's Creek is a good place to toss 3/4-oz. white and chartreuse bucktails with a curly tail jig.
"Me, I'm going to keep fishing like I've been fishing with freelines, sideplaners and corks with an occasional downline depending on what I see on the depthfinder," Biggs admits.
An average fall day on Gaston should produce limits for each angler in the boat -- that's four per angler. If you've got the bait, Biggs notes it's doesn't matter what time of the day you fish.
On occasion, Biggs will break down and throw a pencil popper and bucktail if the water is running hard behind the Kerr Dam. Biggs reminds anglers that navigation is dangerous in this region. Once you get above Little River or Buggs Island you really need to be careful. Only if the water is running hard is it considered easily navigable.
Biggs is excited to use something he's created dubbed the Stealth Planer on Gaston this fall. This original creation is a cigar-shaped cork that functions as a planer to spread a live bait anglers offerings in a wide array behind the boat. Where the Stealth Planer surpasses other planers is how it works when fishing herring. Biggs says you can really tell how lively your bait is and it also helps the angler to detect strikes.
Something else interesting about Biggs' Stealth Planer approach: he fishes this rig a little differently than most by keeping the spools on his ABU Garcia 5600C reels disengaged, yet with the line out alarm on.
"Most of these stripers hit so hard here, all you have to do is engage the handle and you are hooked up," explains the Gaston resident.
Stay tuned to W2 on how to get some of Biggs' Stealth Planers. They are patented and now in the manufactured process.