Post by GhostComanche©® on Jan 25, 2021 13:43:08 GMT
Destination File: Lake Anna
by Walter Claxton at
Woods and Waters Magazine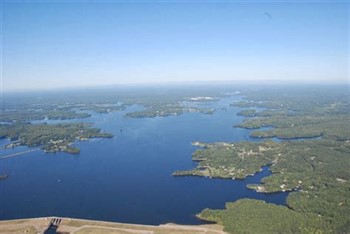 At 45 years old, Lake Anna is considered a middle-aged reservoir that's holding up rather well. Over the years there have been some ups and downs, but no major fishery collapses and remarkably stable fishing despite the lake's proximity to four major population areas – D.C., Fredericksburg, Richmond and Charlottesville.
With 9,600 public acres owned by the Dominion Virginia Power Company (Dominion) Anna is not really all that big compared to Smith Mountain Lake (20,000 acres), Lake Gaston (22,000 acres) and Kerr Reservoir (50,000 acres).
Anna spans Louisa, Spotsylvania and Orange counties and serves as cooling water for the two-unit North Anna Nuclear Power Station. It is has many fingers and coves that add up to approximately 225 miles of shoreline on both the public side and the hotside.
The 3,400-acre Waste Heat Treatment Facility (WHTF) aka "the hot side" has no formal public access and is not managed by Virginia Department of Game & Inland Fisheries, the source of most of this article's information.
VDGIF District Biologist John Odenkirk has been managing and studying Anna for over 20 years. He notes it all began in 1972 with introductions of largemouth bass, bluegill, redear Sunfish and channel catfish. Subsequent stockings of redear sunfish, channel catfish, walleye, striped Bass and largemouth Bass (both Florida and northern subspecies) were made.
Threadfin shad and blueback herring were successfully introduced in the 1980s. Striped bass and walleye were usually stocked annually until 2007 when walleye stocking was discontinued due to reprioritization of VDGIF's walleye production and low return to creel.
Most recently, hybrid striped bass (hatchery cross between male white bass and female striped bass or wiper) were stocked in 2014, and saugeye (hatchery cross between male sauger and female walleye) were stocked in 2013.
A 20" minimum length limit and a four per day creel limit regulate striped Bass and hybrid striped bass harvest (in aggregate), while saugeye harvest is regulated by a five per day creel and 18" minimum size. A 12-15 inch slot length limit on largemouth bass was rescinded in 2005 due to extraordinarily high voluntary release rates of largemouth bass, and there is currently no restriction beyond standard state regulation governing bass creel (five per day with no size limit).
The most recent creel survey (a survey where anglers are interviewed about their fishing habits, preferences and success rates) was conducted in 2010, and another is planned for 2018. The 2010 survey estimated annual fishing pressure at 13.7 hours/acre (131,482 boat angler hours) which was remarkably similar to the 2005 estimate (12.8 hours/acre). This rate was considered moderate for a large reservoir and was below a previous Lake Anna sample (24 hours/acre in 2000). Additionally, all surveys were conducted during daylight hours from established boat access points. Thus; fishing effort originating from private/HOA ramps, nighttime effort, and shore angling were not recorded resulting in an underestimate of true fishing pressure.
Preferred species selected by anglers in 2010 included largemouth bass (66% compared with 62% in 2005), striped bass (20% compared with 22% in 2005), crappie (8% compared with 15% in 2005) and catfish (5% compared to 1% in 2005).
Dominant species caught in 2010 were largemouth bass (37,543 or 48%), black crappie (18,930 or 24%), and striped bass (10,232 or 13%), but an extraordinary number of largemouth bass were released (99.7%). Thus, dominant species harvested were black crappie (8085 or 64%), striped bass (2782 or 22%), and catfish (1407 or 11%).
The aquatic weed hydrilla verticillata became established in Lake Anna during the late 1980s, and abundance increased rapidly from 96 acres in 1990 to 832 acres in 1994. Sterile grass carp were stocked into Virginia Power's Waste Heat Treatment Facility (WHTF) by Dominion in 1994 to control hydrilla. The WHTF is separated from Lake Anna by three dikes, and thermal effluent enters the lake via gravity flow under the third dike. All Grass Carp stocked in the WHTF were marked with coded wire micro tags. No carp were stocked in Lake Anna. Tagged Grass Carp began to appear in Lake Anna a short time after the stocking of the WHTF obviously having negotiated the gravity feed beneath the third dike.
Hydrilla abundance declined rapidly in Lake Anna and in the WHTF during the following years. However, weather conditions during 1995 were suboptimal for aquatic macrophyte growth, and it is likely that the combination of these climactic conditions and foraging by carp reduced, and finally eliminated, hydrilla and other submersed aquatic vegetation (SAV) from Lake Anna.
Aquatic plants are generally considered desirable in an aquatic system, although optimum coverage density is a controversial subject somewhat site specific and based on user activity preferences.
It has taken years for the grass carp population to decline through natural mortality, and only recently have small amounts of SAV begun to emerge including not only hydrilla but Southern Naiad and Chara as well (the latter being a type of algae mimicking a vascular plant). However, due to the wide range of competing interests among Lake Anna property owners and users and variation in appreciation of the value of SAV, an additional grass carp stocking was conducted in 2016 (mostly to the WHTF). Also during the past two decades, water willow Justicia americana (an emergent aquatic plant) has substantially increased in abundance along the shorelines of the mid-lake region. It is believed the addition of both SAV and emergent vegetation has had a positive impact on the largemouth bass population.
A typical Lake Anna largemouth bass reaches 15 inches at 4.4 years and averages only about one inch per year until age eight or nine. Evidence suggests that bass at Lake Anna are stockpiling and stunting, albeit at a more desirable size than typically occurs.
Growth patterns required a bass about ten years (at a conservative minimum) to reach citation length (22 inches). Based on growth curves, it's more likely that citation bass were at least 12 years old unless other factors were at work (e.g., forage and growth variability).
Total annual mortality (the percentage of the bass population that dies each year from all causes) was predicted at 27% for fish aged 2-12 based on a catch curve of bass sampled in 2002. While these estimates assume constant recruitment (equal production of young fish from year-to-year), they are low and support current and previous findings that the population is lightly exploited. Total annual mortality is composed of natural and fishing mortality.
Striped Bass were stocked annually at a variable rate in an effort to determine an optimum stocking rate for Lake Anna, as overstocking could result in reduced growth, survival and/or recruitment.
Striped bass stocking rates averaged 18 fish/acre over the past 15 years (which was considerably higher than rates for other large southeastern U.S. reservoirs). Lake Anna striped bass stockings were evaluated with gill nets (for fish under age Older (larger) individuals were caught periodically and provided useful information, but the maximum bar mesh size of two inches precluded reliable sampling of larger striped bass.
Generally, young fish grew relatively quickly through age 3+ (when they reached the legal 20-inch minimum size), but growth slowed thereafter. Striped bass averaged 14.4, 19 and 22 inches at ages 1+, 3+, and 5+. This pattern of striped bass growth (rapid growth of juvenile and sub-adult fish followed by slow growth of adults) is common in southeastern reservoirs with marginal habitat such as Lake Anna.
Habitat needs shift as striped bass age, and summer conditions at Lake Anna typically find water temperature and dissolved oxygen combinations marginal for adult fish, especially in the lower portion of the reservoir. For comparison, striped bass at Smith Mountain Lake (a reservoir with good adult summer habitat), averaged 17, 23 and 27 inches at ages 1+, 3+, and 5+ for the period 2010-2015.
Overall mortality rate for striped bass at Lake Anna is considered moderate to low for an "exploited" fish stockat 34%.
Most Striped Bass were caught in the upper portion of the reservoir. The North Anna River from Rose Valley upstream past Christopher Run and the Pamunky River from Jetts Island upstream to Terry's Run (and into Terry's Run upstream to the bridge) were typically very productive locations during December netting. Fishing success in 2016 and 2017 should be good with the excellent 2012 year class and above average 2011 year class (combined with hybrids reaching legal size).
Black Crappie were evaluated with experimental gill nets 1997-2015. It was assumed nets sampled the entire population without bias. Otoliths were removed from a subsample of fish captured in 2015 to revisit estimates of growth and mortality, as abundance had been dropping significantly through time. Ironically, catch rate in 2015 set a modern record.
Crappie were the third most abundant fish in nets behind white Perch and gizzard Shad. Despite equal effort, most crappie (93%) were caught in the upper portion of the lake in a familiar pattern likely based purely on productivity and habitat.
Black crappie size structure has usually been excellent at Lake Anna and appeared to peak during the period 2006-2008 when average size was largest and there were more 10"+ fish in surveys than other years. Crappie fisheries are notoriously cyclic and undulate more than most populations due to dramatic year class shifts. High overall catch in 2015 combined with good size distribution (including younger fish) suggested this population may once again be on the rise at Lake Anna.
New, unstocked additions to the lake include northern snakehead (one individual caught by an angler and two captured by electro-sampling) and blue catfish.
Several small blue catfish have been caught in net surveys over the past decades with a curious pattern. Single fish were caught in 1997, 1998, 2004 and 2008 (all less than 12 inches). Then, in 2015; three additional small blue catfish were caught. Their origin is unknown, as no stocking records exist for this species in Lake Anna; however, blue catfish were stocked in the Lake Anna watershed (Lake Orange) during the 1980s. It is possible a small self-sustaining population exists in Lake Anna, but it is unusual that abundance has remained low and no larger fish were observed. Typically, this species rapidly colonizes new water in a highly prolific.
Anna's forage base includes gizzard and threadfin Shad and blueback herring. Most of the forage biomass is composed of gizzard shad, although blueback herring have been a challenge to effectively assess, and threadfin shad abundance is cyclic – based largely on minimum water temperatures, as this species has the proclivity to "winter kill", although it has been many years since a winter shad kill was reported at Lake Anna.
C.C. McCotter began guiding on Anna in 1992. He thinks the lake is fishing better than he's ever seen it with good numbers of citation largemouth and crappie caught the past two years by clients.
"We had anglers record 12 citation crappie last year – our best ever. We also had six citation largemouth – another high mark and a dozen bass just under the citation mark of 22" or eight pounds," he recalls.
He also is thrilled that Odenkirk saw fit to try stocking wiper in the lake.
"These fish are doing very well, thriving in our hot summers even. I think they are a better fit than regular stripers for Anna. They are more aggressive, fight harder and fare better," McCotter told W2.
Visiting anglers can choose from a waterfront motel (The Lighthouse Inn at High Point Marina), Christopher Run Campground, Rocky Branch Campground and a campground or cabins at the Lake Anna State Park for accommodations. Four major marinas welcome anglers including Anna Point Marina, Duke's Creek Marina, High Point Marina and Sturgeon Creek Marina.
Editor's Note: As of this writing, the wiper experiment was deemed a success as 96,000 wiper were being stocking into Lake Anna.