Post by GhostComanche©® on Jan 25, 2021 13:35:20 GMT
Lake Anna....Overview
by the Virginia Department of Wildlife Resources at
www.DWR.virginia.gov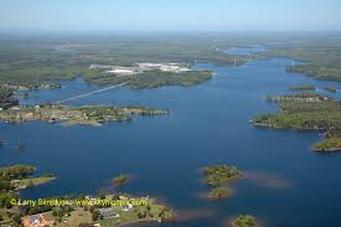 Lake Anna is a 9,600-acre impoundment located in Louisa, Orange, and Spotsylvania counties, owned by the Dominion Power Company. The impoundment was completed in 1972 and serves as cooling water for the North Anna Nuclear Power Station. Initial stockings began in 1972, with introductions of largemouth bass, bluegill, redear sunfish, and channel catfish. Subsequent stockings of channel catfish, largemouth bass (northern and southern strains), redear, striped bass, and walleye were made to improve and diversify the fishery. Blueback herring and threadfin shad were successfully introduced in the 1980's to provide additional forage for pelagic (open-water) predators. Annual stockings of striped bass and walleye continue in order to maintain these fisheries (other species are self sustaining).
Prior to 1985, largemouth bass were managed with a 12-inch size limit (five per day). That minimum was changed to a 12 to 15 inch protected slot in 1985 in an effort to help restructure the largemouth bass population. In recent years, as the popularity of catch-and-release bass fishing became prevalent, creel data indicated over 99% of bass caught at Anna were released. Thus, the need for any type of restrictive harvest restriction is moot, and the slot was dropped on July 1, 2006. Striped bass are currently managed under a 20-inch minimum size limit and a creel limit of four per day.
Lake Anna is a reasonable drive from both Northern Virginia and the Richmond area. Outdoorsmen can access Lake Anna at many private marinas, several campgrounds, and at Lake Anna State Park. Reservoir accessibility creates heavy use by both anglers and boaters, especially during summer months. A 2000 creel survey indicated that fishing pressure was around 24 hours/acre. The most popular species fished for included largemouth bass (69%), striped bass (15%), and crappie (12%). Crappie (70%) were harvested at the highest rate, followed by striped bass (29%) and largemouth bass (1%). A creel survey was conducted in 2005, but data have not been analyzed yet.
Hydrilla vertricillata, an exotic aquatic weed, became established into Lake Anna during the late 1980's. Abundance increased from 96 acres in 1990 to 832 acres in 1994. Triploid (sterile) grass carp were stocked into Virginia Power's Waste Heat Treatment Facility in 1994 to control Hydrilla, and Hydrilla abundance is now quite low in both impoundments (some escapement to the main lake side occurred). Grass carp are still alive from that stocking, but their numbers are declining. Most grass carp remaining are now over three feet long.