Post by GhostComanche©® on Jan 25, 2021 13:26:24 GMT
Catch Lake Anna Stripers Now!
by Mark Fike at
www.gameandfishmag.com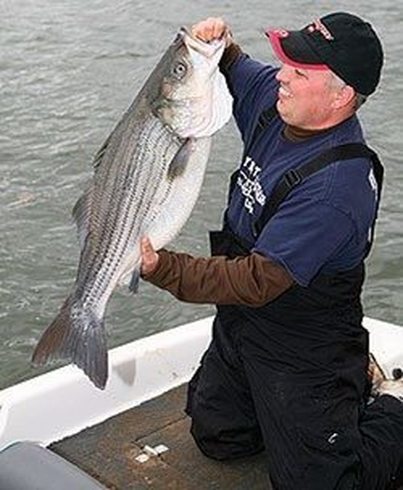 Anglers looking for a reliable winter striped bass fishery need go no farther than Lake Anna.
Striped bass anglers know the truth about the great fishing found at Lake Anna located in the Northern Piedmont Region of Virginia. The 9,600-acre lake spans Louisa, Spotsylvania and Orange counties and serves as cooling water for the two-unit North Anna Nuclear Power Station owned by Virginia Dominion Power.
While December and January weather can be harsh in the Piedmont, at Anna the winter striper fishing is incredible.
We went to VDGIF Fisheries Biologist John Odenkirk for the scientific data on the striped bass population at Lake Anna. He pointed out several facts that will arm the reader with knowledge to be successful when fishing Anna this season.
First, Anna is stocked annually with striped bass because they are unable to successfully spawn at this lake. Odenkirk mentioned that his crew is still fine-tuning the stocking rate is for the lake.
Biologists know that the fish reach the minimum size of 20 inches by age 3, but growth slows afterwards. As of press time, biologists are adjusting their stocking rates and last stocked at 20 fish per acre, which seems to create strong year-classes of fish. Odenkirk also pointed out that the forage at Anna is excellent with plenty of shad and herring present for striped bass. The threadfin shad and blueback herring were stocked in the 1980s and have since provided great food for all predators in the lake. Last, Odenkirk pointed out that stripers can be found all over the lake during the winter, but biologists have found their most consistent sampling results during the winter took place uplake.
Next, we visited with local guide and businessman Chris McCotter, whose successful guide service includes Anna striper fishing. McCotter is a lifelong avid angler and was generous in sharing key information with us to pass on to the readers to help plan a successful outing.
McCotter agreed with Odenkirk's statement that the striped bass can be found all over the lake but often tend to be found uplake in the tributary arms. According to our pro source, the key to finding striped bass is to find bait. If anglers have not had the chance to be on the water much and will only get a day or two to go fish, then they should read blogs by other anglers, call around to marinas, look at fishing reports or anything else they can lay their hands on immediately before they head out. Doing your homework before hitting the water will save time and allow for a more successful fishing trip.
McCotter also pointed out that there are three things that will help anglers be successful on Anna. First, if you only have a day to fish, get out early and stay as late as possible. Second, be sure to present your bait or lures properly without spooking bait or fish. Third, check the weather before you go. Although it is rarely too nasty to fish for stripers at Lake Anna, sometimes it can be too windy. Avoid those days.
Once anglers know the latest information on where the stripers have been found, they can head for those areas and look for bait using their fish finder. As noted above, there is plenty of bait at Anna. McCotter advises anglers to find the bait and then fish just above or just below the "plugs" of baitfish. Typically, this means the anglers will find fish in the upper tributaries, such as the North Anna and the Pamunkey Branch.
McCotter is choosy when it comes to the equipment, particularly the fish finders he uses to put clients on fish.
"A good 480×480 pixel count depthfinder is a critical tool for winter striper fishing. Ours are set up so we can see schools at 35 mph. The new Lowrance HD series permits anglers to see fish at 60 mph due to higher wattage and faster processors."
McCotter also shared that a good fish finder allows anglers to see the bait in deep water, which is where the fish will likely be. In December, baitfish will often be found in 10 to 20 feet of water. He went on to tell us that by January, the baitfish will move downlake some and spread out into more open-water areas in deeper water.
"I have often found stripers holding in 30 to 38 feet and feeding from there shallower," our source noted.
Not to be overlooked at Anna is the hot water discharge downlake near the power plant. In fact, this is a great place to look for fish when it gets really cold. The great difference in water temperatures here attracts bait, which of course brings the striped bass on too.
My personal schedule limits the amount of time I can spend on the water, so I asked McCotter what he would do if he only had a few hours on the water and wanted to bring home some fish. His answer was straightforward.
"I would use a Toothache spoon. It is a very efficient way to see if the fish being viewed on the Lowrance are going to bite. The spoon goes to the bottom and stays right in front of the fish. If the fish are higher in the water column, you can yo-yo it back to the boat. The spoon is also a close imitator of a threadfin shad, which is a top winter striper prey."
McCotter added that a second lure choice would be a Crazy Blade and a third choice would have to be the Berkley Jerkshad on a 1/4-ounce jighead. Alternate choices include a Little Jimmy 1/4-ounce bucktail or a Rolling Runner with a Jerkshad. The Jerkshad on the Rolling Runner has a belly spinner, which McCotter says sets it apart when the baitfish are thick.
Anglers who don't mind getting a bit wet will find that catching blueback herring for bait with a cast net will definitely put fish in the boat. Again, find the fish on your finder and then be sure to get your bait down right into the existing bait. Counting down the line by pulling it out by the arm length can help you ensure the bait is properly presented (or you can use a line counter). Bait can be caught before sunup under bridges or in the area around bridges.
I have fished with McCotter and have found him to be very methodical and deliberate in his fishing. His successful business of repeat customers shows his methods to be working. McCotter, like any of us, has favorite pieces of gear that he employs to catch fish. His favorite live bait setup is an ABU Garcia C-3 6500C mated with a 7-foot, medium-action Ugly Stik. You are very unlikely to break the Ugly Stik, even in cold weather, and we all know the reel will last for years no matter the amount of fish that it winds in. McCotter spools his reels with 10- to 14-pound Fireline and attaches a mono leader with a loop-to-loop connection.
He also has a favorite all-around winter rig for stripers. That rig is composed of a 6-foot, 6-inch spinning rod with Fireline o
n it. Additionally, he likes to switch to a Revo on a 6-foot Fenwick rod and 12-pound Berkley Maxx line for vertical jigging with a Toothache. He noted that this setup has caught his clients hundreds of striped bass over the past 24 months.
Winter fishing is an adventure and requires preparation to stay safe and warm while out on the water all day. Because our pro source is on the water daily, we went to him to find out what he recommends to clients.
"I would recommend many layers of windproof clothing. Stay away from rubber boots and neoprene gloves. Wear a stocking cap over a ball cap to cover your ears."
He added, "I eat at midday, always. Your body burns calories trying to keep warm, so you need to replace them. Also, wear sock liners."
Last, there are a few more tips to keep the fishing productive while out on Anna. Much as they do under open-water conditions in Chesapeake Bay, baitfish at Anna will spook if you run through them with your boat. Keep that in mind and use your trolling motor to maneuver around the bait and stay on the outer edges of schools of bait. McCotter suggests trying to predict where the bait will move and then intercept them. This is great advice that I have also employed on my own boat over the years. When back at the marina, or online chatting with other anglers, share information and take note of the experiences of others. The more information you have, the better the overall picture and hopefully, the more you will learn.
This winter, take a local adventure for striped bass at Anna. You will be pleasantly surprised at the great fishing to be had. Remember, fish must be 20 inches in length to creel. Four fish may be kept per person. Good fishing!