Post by GhostComanche©® on Jan 25, 2021 13:15:22 GMT
Lake Anna Gains a New Species
by
www.adventuresafield.blogspot.com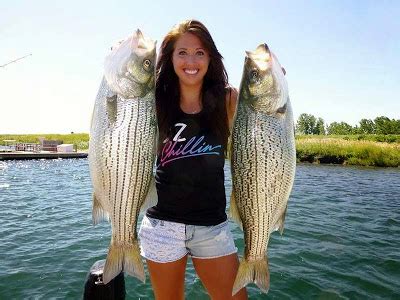 Since its creation in 1973, central Virginia's Lake Anna has offered anglers the chance to fish for many species of fish, from the regional change-of-pace that is the striped bass to the small but feisty table fare, the white perch. But this spring, in partnership with the Virginia Marine Resources Commission, biologists from the Virginia Department of Game and Inland Fisheries will enrich further the angling opportunities present in Lake Anna, through the pioneer stocking of 96,000 hybrid striped bass.
Meet the Fish
The hybrid striped bass—or "wiper"—is a striped bass-white bass cross. The family lineage endows the hybrid with the deep, humped body of the white bass and the larger potential size of the striped bass. Broken black stripes, reminiscent of both parental species, seems indicative of the species' engineered existence. They typically weigh 5-10 pounds, though the Virginia state record is 13 pounds, 9 ounces, and potential exists for even larger specimens.
Why Lake Anna?
Hybrids currently fin the waters of just two of Virginia's impoundments—Claytor Lake and Flannagan Reservoir—thanks to stockings elsewhere in the Piedmont; but certain characteristics also make them a perfect match for Lake Anna.
"Hybrids are being added to the mix due to their tolerance of lesser water quality than pure stripers," reports Virginia state fisheries biologist, John Odenkirk, the project lead.
Pure stripers require an abundance of cold, oxygen-rich water to grow to large sizes; and Anna does not offer such an environment. However, Odenkirk reasons, "Hybrids should grow faster due to increased vigor and reduced metabolic demands for gonad development. Larger fish should better tolerate the marginal temperature and oxygen conditions."
"It takes stripers about 30 months on average to reach the legal 20-inch minimum, notes Odenkirk. "I would expect hybrids to get there a few months faster. Max size should be well over 12 pounds."
Given the appropriate forage base, these 10-pound-plus fish will grow, in time. Hybrids stocked in Claytor Lake in 1992 have only recently acquired such size.
Additionally, Lake Anna is well-known for its abundance of baitfish, a detail vital to the success of the new predator species. Lake Anna guide ChrisCraft is very aware of this asset, and welcomes the addition of hybrids to the waters where he makes his home and business.
Craft, believes that there is "entirely too much bait in the lake," a common complaint among Lake Anna fishermen, and hopes the introduction of another pelagic species will help control the number of baitfish present in the lake. "It will also provide opportunities to be able to target another predatory game fish when others may not be cooperating," and "provide anglers with great memories and even better table fare," says Craft.
What Does it Mean?
The principle benefit of the addition of hybrids to the Lake Anna fishery is increase biodiversity. Hybrids don't vary much from their parental species.
Anglers will have success with hybrids fishing as if for stripers, though with slightly lighter tackle. Choose lures mimicking the preferred forage species of gizzard shad and blueback herring. Crazy Blades and Toothache Spoons, available at Anna Point Marina, as well as soft plastic swimbaits are Lake Anna favorites, as are Zara Spooks and Jitterbugs, provided you can find fish feeding on the surface.
Like their parents, hybrids are schooling species, and can be found following bait in the winter and early spring months when the water temperature and oxygen levels are more to their liking. It is during the winter that fish can be found busting bait on the surface in the early morning and late evening hours. Hybrids may continue this feeding pattern longer into the year than pure stripers due to their physiological difference in water tolerance.
During the warmer months, both hybrids and stripers will seek out the thermocline, where the oxygen level and temperature is most suitable. Again, the warmer water-tolerating hybrids may deviate into thinner water during this time, and at longer intervals; but their pattern is largely to be generalized with that of the stripers.