Post by GhostComanche©® on Jan 25, 2021 13:10:51 GMT
Guide Tactics for Winter Striper
by: C.C. McCotter at
Woods and Waters Magazine
| Feb. 2004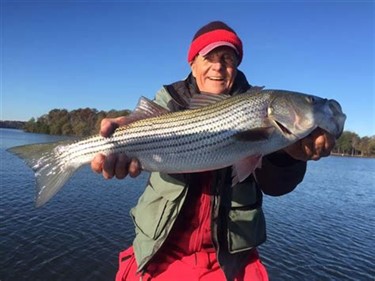 One of the most popular and growing aspects of fresh water angling is the pursuit of land-locked stripers. These notoriously finicky cousins of saltwater rockfish have been stocked over the years in many of the man- made lakes in our region and are thriving today.
Take a moment to count the number of center console rigs on the lake the next time you are out and you might be surprised. While, striper fishing can be accomplished in a variety of boats, from center console to bass, pontoon to aluminum, you do have to have them rigged right and know how to fish and know where the fish are and know how to present bait or lures to them, etc....
Do you like a challenge? Well, here's some advice from top guides around the region you might want to heed as you get geared up to catch stripers over the next few months.
Lake Anna
Jim Hemby used to be a bass angler. That is until he caught striper fever 15 years ago and turned his laser-like focus on catching linesides from Lake Anna. He began fishing out of bass boats, but eventually switched over to a specialized pontoon boat, rigged to his specifications.
One look at his 22' rig, powered by a 150 hp Yamaha outboard lets you know his level of seriousness. When "fully loaded" Hemby can work 10 lines at once for clients. He can carry over 150 pieces of live bait in aerated tanks. The right gear is clearly very important to this guide. As a rule, most good striper guides are fastidious (serious and picky) about their gear.
What's Hemby's advice to beginners? He offers the following in order of
importance:
"First, hire a guide. You need to learn seasonal patterns and how to actually fish for stripers. There's no faster way than with a good guide," explains the striper guru. "A good guide won't hold anything back because he or she will know striper fishing changes each year." A beginner should also take time to outfit themselves properly, notes Hemby.
"Gear is everything. The most important is your depth finder. That is the best dollar spent for your return. Don' scrimp on this item. And don't just turn it on, have someone teach you how to get off the automatic modes and learn how to use the custom modes." Hemby fishes live bait about 95% of the time when guiding. To do this properly he relies on another important piece of equipment. "For running bait, using a trolling motor that you can keep constantly on and adjusted is very important. Most striper anglers use a Minn Kota Auto Pilot Power Drive. This allows you to run many more lines since they are always being pulled."
Fishing tackle is also crucial to success. Here's this striper expert's opinion on what to buy:
"The right rod with the right tip and the right reel is the next most important part of your gear. A reel with a superb or excellent drag system allows you to use lighter line (10-12 pound Trilene XT) so you get more strikes. I have used ABU Garcia Workhorse Rods (7' medium action) and ABU Garcia C3 reels for many years and recommend them to anyone looking to get started in this sport." Lastly, Hemby offers this advice on his secret baits: "If you can collect natural baits, they will consistently outperform store- bought baits nine months out of the year. However, in January, February and March jumbo minnows will do fine."