Post by GhostComanche©® on Jan 25, 2021 12:35:04 GMT
Claytor Lake will bounce back from fish kill
by Bill Cochran at
www.Roanoke.com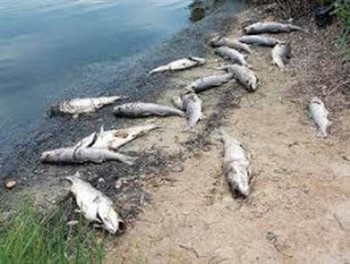 The mid-July die-off of large striped bass in Claytor Lake isn't anything new, although that fact hardly pacifies anglers who are concerned that their fishery has been damaged.
Kills also have been documented in 2002, 2007 and 2010, according to Bill Kittrell, regional aquatic resources manager for the Department of Game and Inland Fisheries.
"One may ask, why stock stripers if the habitat in the lake does not always support stripers?" Kittrell said. "The answer is that there often are a number of years in between kills when we can get stripers over 20 pounds. It is worth it to stock for the trophy potential."
Many anglers agree and are pleased with the striped bass population in the 4.475-acre lake on the New River. The fishery has flourished even though the lake is small for a predator this big.
A few years back—when officials began supplementing striper stockings with a hybrid cross between white bass and striped bass —the grins on the faces of anglers got even wider.
Kittrell estimated that 150 to 250 striped bass were killed starting on July 16; however, getting an accurate count is impossible.
"It certainly is not a total kill," he said. "These were primarily larger striped bass, maybe 5 pounds up to 15 with a few smaller and a few larger."
They are fish that would make an angler proud.
Most fish die-offs are the result of pollution, disease or parasites, but not this time. The culprit is something biologists call "temperature/oxygen squeeze." It occurs when fish can't find water combining the correct temperature and dissolved oxygen content.
"Research has documented that younger fish are not as likely to be impacted," said Kittrell. "In addition, striped bass hybrids are not impacted because they tend to be able to withstand warmer temperatures than striped bass."
Most often die-offs like this occur during hot, dry weather, so it is a bit puzzling that the Claytor kill took place during what has been a cool and wet spring and early summer.
Kittrell projected a number of theories as to why it happened, then concluded, "I don't think that we know for sure why this occurred this year, but all the factors may have worked cumulatively to cause it."
Anglers shouldn't think fishing in Claytor Lake has been ruined.
"If the die-off winds down soon, it is doubtful that there will be long-term impacts to fishing," Kittrell said.
"Many year classes that are in the lake are not affected and even some of the larger striped bass have found other refuge areas that still have cool water and good oxygen levels, like Peak Creek and the New River."
Plans call for conducting a survey this fall to assess the striper and hybrid populations, Kittrell said. Considering there are several year classes of stripers in the lake, extra stocking may not be necessary to compensate for the trophy fish that have been lost, he said.
Claytor's annual stocking allocation is 67,000 stripers and 33,500 hybrids. The stripers generally come from the Vic Thomas Hatchery in Brookneal, while the hybrids are purchased from private hatcheries.
Fishermen have been very pleased with the hybrids, which have grown to be as much as 15 pounds, Kittrell said.
Lee Walker, Department of Game and Inland Fisheries director of outreach, said he is unaware of any other die-offs in Virginia.
​
Fish kills are ugly and sad, but an occasional one may be the price of having large, free-roaming striped bass in Claytor.