Post by GhostComanche©® on Jan 25, 2021 12:26:23 GMT
Natural Phenomenon killing Claytor Lake Striped Bass
by Bill Cochran at
www.Roanoke.com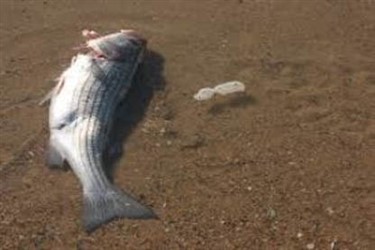 Scientists say an unusual condition at Claytor Lake is killing mass amounts of striped bass, leaving anglers frustrated – and confused.
Virginia Department of Game and Inland Fisheries Biologist John Copeland said he's been fielding calls all week about fish either struggling near the surface of the water, or floating dead.
He said he saw more than 20 affected bass himself over a period on Wednesday.
The cause is a weather-related issue that Copeland said has happened at the lake about four times in the past 16 years. Typically, it happens during periods of hot, dry weather. Scientists still aren't sure why it's happening now, after such an abnormally wet summer.
Copeland explains stripers prefer water between 64 and 75 degrees. When the weather gets hot, the fish dive about 60 feet below the surface in search of cooler temperatures.
The problem is that oxygen levels at those depths have fallen to about 1 parts per million this year, according to data from the Virginia Department of Environmental Quality.
Stripers can only tolerate oxygen levels down to 2 ppm.
Copeland says the fish will stay deep in the water until there's virtually no oxygen, and then are forced to rise toward the surface too quickly.
The fish experience rapid pressure change, which causes their air bladders, used to regulate buoyancy, to inflate.
The fish have no way of releasing the air, so they become stuck on the surface.
"They can't go back down, but they'll try," Copeland said, describing what he saw from his boat this week. "They go down, but they pop back up a few minutes later."
Water at the surface of the lake is far too warm for the fish, so they stay there until they die.
Copeland said he doesn't recommend eating floating fish. And those struggling near the surface aren't going to bite. But he said Claytor Lake is fine for fishing other species.
He said he first heard about the infrequent occurrence known as the "temperature/oxygen squeeze" in 2002. He saw it again in 2007, then 2010. This year, people began reporting dead fish last weekend.
Copeland has examined samples of the fish, finding no parasites or signs they had recently been caught.
He said it seems to affect larger stripers between 6 and 15 pounds. Other fish species, including striped bass hybrids, are less susceptible.
"People will see a difference in their catch rates for stripers in the next six months, next couple years until the population rebuilds from annual stocking," Copeland said. "Good news is smaller fish aren't as affected so there will be more smaller fish growing."
Copeland said he is not aware of the issue impacting fish at Smith Mountain Lake.