Post by GhostComanche©® on Jan 25, 2021 1:42:08 GMT
Kerr Lake Stripers
by
www.adventurenaturewriting.com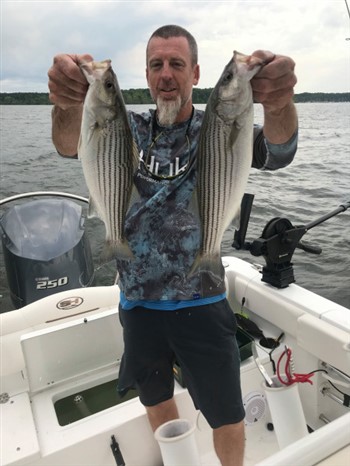 So the striped bass bite on Kerr Lake in North Carolina has been really good the last few weeks.
I have been up multiple times with different people and done really well. Kerr Lake is a tough lake to fish as the fish do stack up on points, but there is also a strong offshore bite on the myriad of underwater islands and flats. It's a serious electronics fishery.
To me, Gaston and Jordan lake have the same type fisheries, but I can go out there and do really well without fancy electronics or mapping. In fact, I've never had those features on any unit I've owned until just purchasing the navionics card last week. These fisheries are more easily fished with basic sonar as the fish tend to be on the points all year long.
Michelle and I took our boat and hit Kerr a couple weeks ago the first time as Gaston Lake was seriously muddied up. We left midday on a rainy Wednesday, and started in pouring rain. Good thing we had the raingear. It took a while to find the fish, and being middle of the day the bite started slowly, but we ended up with a nice afternoon and found 5 fish I decided were big enough for the cooler. You can keep 4 per person right now any size, but it's been a cool summer and I have been releasing some of the smaller fish to keep decent sized ones.
I returned a few days later with a buddy on his 24′ Sea Hunt and again found the striped bass.
Then, I went again alone this past Saturday, in a 10mph north wind in my boat, and found fish biting fairly early. I caught a limit, but only kept 3 as the other fish I caught were really small, and again I felt they would live as the water is much cooler than usual this summer. It was a seriously nautical day on that lake in my boat. Kerr Lake can sometimes seem to generate its own weather, so if you go out there in any kayaks or smaller boats, do your homework on the weather report and if you get caught in rollers like I did, be patient and take your time getting back to the ramp if you feel the need.