Post by GhostComanche©® on Jan 25, 2021 0:57:57 GMT
Cold Weather, Hot Stripers
by Craig Holt at
NorthCarolinaSportsman.com
| December 1, 2011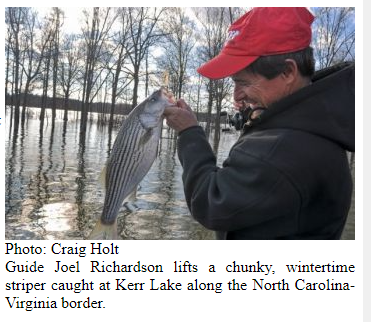 Fishermen who are so affected by their habit that they can't stand to put their rods away knowing that December and January are just about the worst months of the year. There's little relief in sight until the crocuses start to peep through February's snows.
The arrival of winter in North Carolina usually means cold weather; most fish have dialed back their metabolism to "slow" and getting a big-lake largemouth bass to slow interest, even in a lure that's barely moving, is about as likely as Republicans approving a tax increase.
But there are a couple of tricks you can try, including getting permission from Momma to pack your stuff and head to Florida, or going to a lake inside the state's boundaries that has fish that might actually will show interest in a something impaled on a hook.
You might have success with the Florida strategy if:
• Momma doesn't care where you go (about 50 percent of you are nodding your heads); • She doesn't care if you're around or not but isn't about to allow you to have any fun (35 percent nodding); • She half-way cares — and you recently bought her a new car — and you have the persuasive abilities to convince Mahmoud Ahmadinejad (the midget whack job Iranian president) to quit causing trouble (five percent nods); • You promise to take her and kids to Disney World while you while you fish the nearby Kissimmee chain o' lakes (nine percent), or:
• Momma actually loves, trusts and likes you enough to let you go fishing locally anywhere you want (one percent nods).
If you're not a catfishing fan, one of the best target species during the winter is striped bass.
Why? Stripers don't mind cold weather. In fact, they prefer bone-chilling water temperatures, say on the order of 44 to 54 degrees.
Well, you say, where could I go to find striped bass that will hit lures when there's ice on my windshield?
The answer covered almost 50,000 acres along the North Carolina-Virginia boarder, John H. Kerr Reservoir, aka Buggs Island Lake.
I headed to Kerr one December morning, leaving the house with the temperature hovering around 22 degrees. I pulled on thermal long johns, a flannel shirt, jeans, wool socks, L.L. Bean pack boots and a thick, hooded sweatshirt, with an insulated pair of coveralls rolledup under my arm, just in case. My headgear was an Atlanta Braves ball cap, but I had stuffed a knitted facemask into one pocket of the coveralls and jammed a heavy pair of wool gloves in another.
A bluebird day was predicted, and the stars winked at me from a black, velvet sky — the worst kind of weather after a cold front's passage, a day guaranteed to be a fishing disaster.
I scraped the ice off my windshield, let the motor run until warm air was flowing from the vents, then headed toward I-85 and headed toward Durham and beyond, to the Virginia line.
About 45 minutes later, I turned north on NC 15 at Oxford, easing through that still-asleep town at 45 mph. Thirty minutes later, I pulled over and parked, and guide Joel Richardson climbed out of a van that pulled up nearby.
We exchanged handshakes, and he said, "Lemme go get my boat, and I'll be back, and we'll go catch some stripers."
His optimism was a relief because Kerr Lake had been the victim of an infestation of copepods, aka gill maggots, a couple of years earlier. The nasty little critters that resemble grains of rice and settle on the gills of fish had found their way down the Staunton River from Smith Mountain Lake, where they'd decimated the trophy-size striper bass fishery in that impoundment near Roanoke, Va.
As a result, most of the big stripers at Kerr had long since filled the stomachs of scavengers. Not that the lake ever had the big numbers of big fish that made Smith Mountain famous. Before the gill maggot outbreak, a big Kerr Lake striper might weigh 20 pounds, but in years since, fishermen had gotten used to catching "rockfish" in more midget sizes — 12 to 20 inches long, weighing two to four pounds.
"We won't catch any giant stripers; that's for sure," Richardson said. "But the way you fish in winter up here is you look for a school attacking baitfish on the surface or you look for diving (gulls). The stripers will be underneath them.
"If you can get to a school before they dive, you can catch a striper on every cast."
Richardson's winter weapons of choice include 7-foot, medium-heavy baitcasting rods mated to Shimano reels with a 5-to-1 retrieve ratio. He spools his reels with 10- to 14-pound Edge line.
"I usually like 10-pound-test, but sometimes I'll change to 14-pound-test to control the fall of a 3/8-ounce white bucktail jig, especially in shallow water, 10 feet or less," said Richardson, who really doesn't like a high-speed reel "because stripers will be a little lethargic in the winter when the water's cold and won't spend a lot of energy to chase a lure."
A favorite winter striped bass lure is the old reliable Rat-L-Trap in ½- or ¾-ounce sizes, "but any type of lipless crankbait will work in that size," he said. "You also want to choose a shad or chartreuse color."
One of the best striper lures, Richardson said, is the old Bomber Flat A or Bomber Speed Shad in mostly chrome color with some gold. They run 3- to 5-feet deep, which is fine for near-surface stripers. The Flat A has a near-neutral buoyancy, a slow rise and can be cast for long distances, critical in chasing schools of winter fish.
"You can't just drive your boat into a school on the surface, start casting and have any success because all you'll do is spook the fish, and they'll go down and may pop up again a quarter-mile away," Richardson said.
The Bomber Flat A, because it can be heaved a long way, is perfect for idling close to a school of fish and making long casts into their midst.
"This near-neutral design gives an angler the flexibility to target fish at specific depths with specific retrieve speeds," Richardson said. "You can fish it slow or burn it for a reaction strike."
If he isn't seeing birds or stripers on the surface but sees schools of fish near the bottom with his depthfinder, Richardson will pick up a rod with a jigging spoon tied on.
"A jigging spoon is my main striper lure at such times," he said. "I'll jig a ¾-ounce chrome or gold jigging spoon if (stripers) are showin' close to the bottom."
This situation usually occurs during one or two weather conditions.
"If you got a bad weather front coming through and it starts getting really cold or you have dirty water, baitfish will go down and the stripers will follow them," he said.
But during a normal cloudy, winter day with moderate temperatures, the topwater action can extend from dawn to dusk.
"If it's cloudy, you can get a bite all day long near the surface," he said. "On the other hand, if it's a sunny day, the fish will go deep after an early morning bite and stay down."
And oh, by the way, when Richardson climbed out of his van, his wife was driving, having arisen before daylight on a Saturday to deliver her husband to Buggs Island to go fishing.
Richardson is part of the lucky one percent.
I can see you nodding your head.
Winter is best time for striper action
Although many fishermen prefer to fish for striped bass at Kerr Reservoir during the summer when the breezes blow and T-shirts and shorts are almost mandatory, guide Joel Richardson almost never ventures out on the 49,500-acre lake during the hot months. He'd rather dress for arctic conditions, because he prefers the livelier action of runnin' and gunnin' for surface-schooling winter fish.
"From mid-November until the end of December is prime time to be (here) for stripers," he said. "That is, it's prime time for anyone like me who wants to go out and catch aggressively feeding stripers."
Even though the average sizes of striped bass have declined because of the gill maggot infestation, Kerr Lake still has a sizeable population of fish, just smaller than usual. But that's not going to last forever.
"The sizes of the stripers have dropped the last few years, but the overall population is up," Richardson said. "I believe in two or three years — if the prediction is true that the gill lice will peter out — there'll be a lot of 10- to 15-pound stripers. There's still plenty (of baitfish) for them to eat."
Richardson said he continues to have 50- to 70-fish days at Kerr.
"My best day was 51 fish in three hours," he said of last December's action. "They went from one to eight pounds."
Before the copepod invasion, his best Kerr striper weighed 24½ pounds, caught the second week of December on a Speed Shad in five feet of water in a sheltered cove.
"It was a cloudy day with a light wind and spittin' snow flurries," he said. "Sometimes, when it gets too rough to be out on the big water, I'll go into a cove or creek and try to catch largemouths. That's what I did that day, and the fish hit a Poe's deep-diving crankbait in homer (green/chartreuse) color."
'Loony tune' time
Another advantage guide Joel Richardson employs is a bird not seen at most lakes in North Carolina but fairly common at Kerr Reservoir.
"I like to find sea gulls diving on baitfish being attacked by stripers, but if you can find loons, then you got something good," he said.
Loons most often are found in more northern areas. For some reason, Kerr has its share of these beautifully-plumed fish-eaters.
"A lot of times, loons will dive and force baitfish to the top, where stripers will find them," he said. "I like sea gulls best, because the baitfish will already be on top, and you know stripers will be underneath them. But if action is slow, and you can find a loon diving, you might want to throw a lipless crankbait where you see him diving, Sometimes, there will be stripers nearby, and they'll crash your lure."
Sometimes, Richardson said, loons will push other fish to the surface — crappie and bream, for example — but if gulls are present with loons, an angler usually has struck the mother lode.
"Seeing loons and sea gulls together is a great thing," he said. "If you see them together, there's almost always striped bass down there, and they'll be feeding."
Destination InformationHOW TO GET THERE/WHEN TO GO —
I-85 will get you in the neighborhood from most anywhere in North Carolina. Head toward Henderson, and from there, you can take NC 15 north to the upper end of the lake, NC 38 to go to Townsville, Exit 220 to Satterwhite Point, Exit 223 (Manson Rd.) to Bullocksville or County Line Park. To reach the dam, take Exist 229 (NC 4) which leads to North Bend Park, then US 58 west to Clarksville, Va. The best cold-weather striper fishing is from November through mid-January.
BEST LURES/TECHNIQUES -
Search for flats that drop off into deep water and look for diving sea gulls or loons. Stripers will usually be near the surface. Do not run into a school of stripers feeding at the surface with your engine running; they'll submerge and may re-appear a mile away. If you see another boat working fish and anglers hooked up, gently approach the spot, using the wind to drift in or trolling motor set on low power and make long casts. Check the mouth of coves, even the backs of creeks, in five feet of water or less, for schools of stripers attacking baitfish.
​
TACKLE -
Use 7-foot, medium-action rods and reels fitted with 10- to 15-pound monofilament. Cast crankbaits such as Bomber Flat A's, Rat-L-Trips, Speed Shad, Sonics or other sub-surface lures. For deep fish, use a gold- or chrome-colored jiggg spoon. Baitcasting or spinning reels will work.