Post by GhostComanche©® on Jan 25, 2021 0:57:05 GMT
Buggs Island Winter Stripers
by Dan Kibler at
Game and Fish Magazine
| January 2006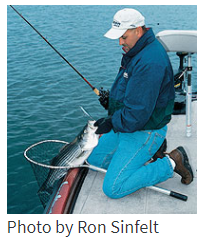 If you're looking to tie into a nice freshwater striper this winter, it's hard to beat the action at Buggs Island Lake.
While a lot of fishermen are winterizing their boats this month, cleaning out their tackle boxes and taking apart their reels for a good cleaning and oiling to prepare for the spring fishing that's 10 weeks away, Joel Richardson is really getting excited about fishing right now.
That's because the guide understand that cold weather can mean hot fishing, especially if you're concentrating on striped bass and your home base is Buggs Island (Kerr) Lake.
Stripers aren't exactly turned off by water temperatures that are cold enough to shut the mouth of a largemouth bass. In fact, as the mercury drops below the 50-degree mark, stripers are really starting to get into the swing of things, dogging schools of baitfish and feeding actively for long periods of time.
At least that's what Richardson is counting on.
Richardson, a pro bass fisherman from Kernersville, guides just about everywhere in the Piedmont of North Carolina, but his primary turf is Buggs Island (John H. Kerr), which straddles the North Carolina-Virginia state line north and west of Henderson. He has a cottage on the lake and has guided winter striper trips there for years, normally beginning in mid-December and going through early February.
At Buggs Island, January is really two different months -- at least as far as fishing tactics go for Joel Richardson, who fishes mostly on the lower half of the 49,500-acre lake.
In early January, or as long as the weather doesn't break off ridiculously cold, Richardson targets stripers in the first third to halfway back in major creeks with shallow- to medium-running crankbaits.
"The first part of the month -- or if the weather has been mild -- fish can still be caught on crankbaits and bucktails in 7 to 15 feet of water," Richardson said (336-803-2195). "You want to fish the biggest creeks on the lake, the creeks with the really big channels that carry good depth a long way back -- creeks like Nutbush and Grassy. You want to fish the longest shoal you can find in an area -- where the deep water and shallow water meet."
If the winter has been extremely mild, fish will be in relatively shallow water and Richardson will target them with a Bomber Speed Shad, a crankbait that will run 4 or 5 feet deep with a very distinct wobbling action. The colder it gets, however, the deeper Richardson fishes, and he normally moves to a medium-running bait like a Zoom Z-3 or a DJ-2 flatsided bait, using some kind of a shad finish or color.
"Stripers are just like largemouths; they're particular about where they locate," Richardson said. "If they're on the edge of a flat, they'll be on the best place -- either on some kind of cover like a stump, brush or rocks, or they'll be on the sharpest dropoff. A Speed Shad will get them early, but normally, you need to go a little deeper in January. You're really looking for plugs that will run down around 9 to 11 feet.
"What you find is that the stripers will hang out on top of a point, and they'll move on and off that point. There might be one or two fish on a spot, and if you can find a place they're using, you can catch a fish, come back later, and catch more. It's like they're taking turns feeding on that one place. When one moves off it, another one moves up on it."
Richardson also likes to cast a bucktail into the shallows, working it back methodically but slowly, bouncing it off the bottom and hopping it along until he gets it back to the boat. On occasion, stripers will prefer a bucktail to a crankbait.
By the middle of the month -- or if December has been particularly cold -- Richardson moves out of creeks and starts looking for fish in the deepest water available, which is around the main Roanoke River channel.
"By January, they'll be around the mouth of the creeks, and if we've had some cold weather, or if it's mid-January, it's probably gotten cold enough, and I'm going to fish around the mouth of every creek from Butcher's (creek) to the dam: Eastland, Mill, Carter and Nutbush. I might fish in the creek around the first secondary point or two, but mainly I'm going to be out on the deeper channels. I've caught them as deep as 50 feet on a jigging spoon, but most of the time they're going to be from 35 to 50 feet deep. And they won't be on the bottom -- they'll be suspended about 10 feet off the bottom."
Richardson said that this kind of offshore fishing is when a good depthfinder really pays for itself.
"It comes in handy, big time," he said. "I don't even start fishing until I see some activity on my Lowrance X-19C. I'm looking for bait and (fish) hooks on the screen, and when I go over them, I know it. Stripers -- there will be big spots of them, and they'll show up on the depthfinder like trees, stacked up vertically."
When he finds fish, Richardson will break out a jigging spoon. He's not particular about the size or brand, although he does like a spoon that's painted white on cloudy days.
"Something I don't do much of but what will work is to drop a live bait down there during the winter," he said. "I normally stick with artificials, and it doesn't matter what kind of spoon you fish, as long as you can get it down to them."
Richardson likes to replace the treble hooks that come on many spoons with a pair of single hooks, threading them onto the split ring that connects them to the bottom of the bait so that the hook points face each other. And he believes that a red hook can really make a difference in the winter.
"Then, I just jig through them," he said. "If you really find fish feeding, your spoon will never hit the bottom. And you'll catch everything: big crappie, blue catfish, white bass, white perch, walleyes and stripers. Normally, when you're jigging that deep, you're below the largemouths, and the stripers and blue catfish will be the deepest."
Richardson regularly ties into stripers that push or exceed 15 pounds, yet he sticks with the tackle that he normally uses to fish for largemouth bass.
"I like to use 12- to 14-pound Stren mono and a 6-foot, medium-heavy Shimano Claris baitcasting rod," he said. "I just drop it down as far as I think I need to and jig it up and down. You'll catch more stripers fishing deep than you will cranking early in the month, but they won't be as big as those fish."
Buggs Island is managed jointly by the North Carolina Wildlife Resources Commission and the Virginia Department of Game and Inland Fisheries. The states share a four-fish daily limit and 20-inch size minimum for stripers, and both states recognize each other's licenses all over the lake.