Post by GhostComanche©® on Jan 25, 2021 0:56:12 GMT
A Hot Lake For Cold-Weather Stripers
by Jeff Samsell at
Game and Fish Magazine
| December 2009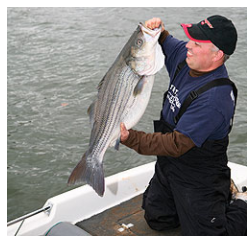 Buggs Island serves up some winter striper fishing you don't want to miss.
One of North Carolina's largest reservoirs is also one of the best places in the state to get in on hot fishing when the weather turns cold.
Buggs Island/Kerr Lake
Similar to Lake Norman, John H. Kerr Reservoir (or Buggs Island Lake as it is more widely known) does not produce many trophy striped bass. The fish are somewhat larger on average than those in Norman, and both numbers and average sizes are currently on the increase. However, few stripers in Buggs will ever reach trophy proportions, according Vic DeCenzo, a fisheries biologist for the Virginia Department of Game & Inland Fisheries.
DeCenzo, whose agency takes the lead fisheries management role over this big, borderline impoundment, characterized Buggs Island striper population at its best as "an 8- to 12-pound fishery."
Completely unlike Lake Norman, Buggs Island is exceptionally fertile and the stripers enjoy extremely abundant forage. However, that same fertility actually lies behind the lake's biggest limitation for producing true heavyweight stripers. When summer hits hard and the lake stratifies, cool well-oxygenated water becomes extremely limited, and stripers (especially large stripers) require cool, well-oxygenated water.
Despite this limitation, high fertility and four different shad and herring species guarantee plenty of food on the table, and proactive management has dramatically improved the fishery over the past decade or so.
Through the late 1990s, the Buggs Island striper population was totally dependent on natural reproduction. Year-classes were inconsistent, though, and during the second half of the '90s, anglers were expressing increasing concerns about the lake because they were catching fewer and smaller fish. Data indicated that the best recruitment during the '90s occurred in 1998, when state hatcheries had a surplus of striped bass fingerling, and a bunch of those fish had been stocked in Buggs Island.
"That showed us that there was a place for stocking as a tool to supplement natural reproduction," said DeCenzo. Instead of studying the inconsistent natural reproduction, which would have cost money that wasn't available and taken several years, the VDGIF began stocking 350,000 striper fingerlings per year. While no means has been established to distinguish adult stocked fish from lake-spawned fish and therefore quantify the specific effect of the stockings, the indisputable fact is that both netting surveys and fishermen's reports have shown a gradually improving fishery ever since the supplemental stockings began.
In 2006, regulations were changed to benefit size structures. It's a two-fold regulation. From June 1 to Sept. 30, the daily limit is four fish, with no minimum size. Release mortality is extremely high during the summer on Buggs Island, so biologists encourage anglers to keep every striper they catch up to the four-fish limit during this period and then to stop fishing for the day. From Oct. 1 to May 31, the limit is two fish, with a minimum size of 26 inches. This encourages catch-and-release during the time when the fish generally can be released in good condition and protects fish for two extra years on average, when compared with the previous 20-inch minimum size.
Marion "Ramrod" Hall, who has been fishing Buggs Island for nearly four decades and has guided for 19 years, only fishes for striped bass during the cool months. Because Hall does not normally keep stripers, he simply won't fish for them during the period when released fish are less likely to survive.
Fortunately for Hall and other striper fishermen, winter ranks among the best times to enjoy fine striper fishing action on Buggs Island. They congregate around big schools of baitfish and feed somewhat predictably. Because the fish do tend to stack up, once an angler finds feeding fish and hooks up, the next strike often comes quickly.
The challenge begins with finding fish in the first place. Unlike spring, when most fish run up the rivers to spawn, and summer, when climatic conditions force most fish to stay in the lake's lower main body, the fish find comfortable living virtually everywhere during the winter, and they do a lot of moving.
Hall focuses much of his winter attention on the lower ends of major creeks, and he'll commonly spend some time searching for schools with his graph before he ever puts down a line. He named Grassy, Eastland, Mill and Nutbush creeks as consistently good areas for winter striper fishing and suggested that anglers begin looking for fish in water that's around 30 feet deep. He noted, however, that the fish will move up and down a lot during the winter and could be substantially shallower.
Hall does most of his fishing by slow-trolling with live bait, using flatlines, downlines or some combination, depending on the depth of any fish he has located. He'll move the boat very slowly with the trolling motor, either concentrating on fish he has marked or searching as he fishes. His downlines typically are set 20 to 30 feet deep.
Another good thing about winter is that the fish will sometimes give themselves away by pushing baitfish to the surface. Seagulls also help anglers home in on fish because the birds will feast on the baitfish that the stripers push to the top. If big numbers of birds are hanging around an area, chances are good that schools of stripers have been working in that area. If the birds start circling and diving, fish are almost certainly beneath them. Even if the schools are sporadic or stop coming up after a couple of frenzies, they reveal the areas where the striper
s are most congregated, and often Hall's regular trolling tactics will help him zero in on those fish and catch them.
Hall's baitfish variety of choice is a blueback herring. However, he also fishes with threadfin shad and gizzard shad at times, depending on availability. Hall catches his own bait with a cast net, as do most guides and many other lake regulars. However, he noted that shad or herring can be purchased from bait stores.
Much of Buggs Island lies within Virginia, but a reciprocal agreement between North Carolina and Virginia allows anglers properly licensed for either state to fish anywhere on the lake.