Post by GhostComanche©® on Feb 5, 2021 14:46:56 GMT
Fall Fishing on Lake Gaston
by
www.ResortsandLodges.com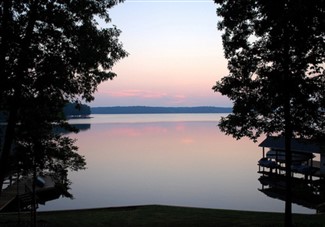 Shorter days, crisp mornings, and sunny, comfortable afternoons are all sure signs that we are slowly drifting into fall. And to an angler this is the beginning of some exciting and rewarding fishing experiences amid Mother Nature's myriad of colors.
Whether you are an avid angler eagerly awaiting an opportunity to wet your line or someone content to just head out when the urge arises, Lake Gaston in North Carolina and Virginia is one fishing paradise you can't afford to miss. Stretching out across the northern part of North Carolina and southern Virginia border, Lake Gaston is considered one of the best kept "secrets" in the Southeast, offering a variety of fishing opportunities to satisfy just about any freshwater anglers' appetite.
Anglers and landlubbers alike come to the Lake Gaston area because it is an icon for rural serenity — a beautiful shoreline dotted with lavish lakefront homes and crystal clear water, which rarely fluctuates — an excellent backdrop for a full variety of fishing and boating opportunities.
First impounded in 1963, Lake Gaston contains 20,300 surface acres with a maximum depth of around 90 feet. Although considered a small lake in comparison to most others, from an angler's standpoint she fishes big — 350 miles of shoreline, numerous creeks, tributaries, and main lake coves and pockets. There's also submerged stream channels, old roadbeds, and points and humps, all providing a seemingly endless array of fishable locations. Add to the above the throng of manmade and natural features, like riprap banks, bulkheads, stumps, emergent and submerged weed beds, and thousands of boathouses and docks, and it's easy to see why Lake Gaston is an angler's delight.
Striped bass (rockfish) —
Probably the second most sought after and popular game fish found in Lake Gaston. The continued presence of stripers in the lake is completely dependent on an annual stocking program by the North Carolina Wildlife Resources Commission. The lake is therefore full of schools of stripers representing many year classes from a normal range of three- to eight-pound class to catches as big as 20 pounds and over. Striper action seems to improve once the water temperatures cool. During the fall, it is not uncommon for stripers to chase schools of shad to the surface in a feeding frenzy. And if you're lucky enough to be in the vicinity when this occurs, throw in anything you have tied down and thank your lucky stars. Watch for diving birds and the telltale surface commotion to find this fantastic phenomenon.