Post by GhostComanche©® on Feb 4, 2021 17:10:38 GMT
Summer Striper Fishing on Kerr Lake
by
SummerStripers.Bogspot.com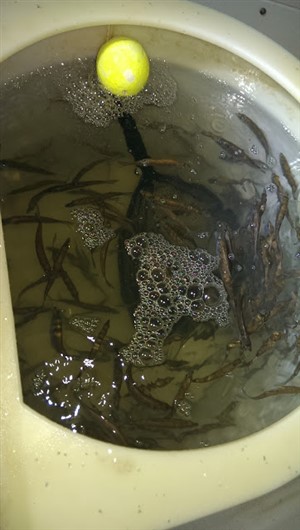 A frustrating day of my making along with the striper's attitude . . .
August 21 and I was on my way to meet Bill Fowler at Palmers on Buggs Island Lake (Kerr Reservoir). I arrived at 6 AM as planned and watched Bill and crew motor toward the ramp. He was on the water at 5, put the 4 foot long green fluorescent lamp down and a short time later made two casts. That filled the tank with about 15 dozen herring. Not big, but OK.
Palmers doesn't have a dock for some unknown reason. Likely the only Corp of Engineers park on the lake that doesn't. So, for guys like me, it means wading to the boat. Not being agile, I have to do all kinds of roll maneuvers to get on the boat. OK, made the trip.
Bill handles his boat as if he is a professional. On plane into and out of the coves with unbelievable 180 turns. The Ray Jefferson telescan 1500 running along with the Sea Pro on plane sees striper schools that most other modern sonar can't. The RJ is about 45 years ancient since last production.
What a beautiful morning, partially cloudy and that made the sunrise special.
The tracks took us over areas that Bill fished a lot recently and displayed lots of striper schools. There were schools, but nothing big. Small pods that could easily be cat fish. I wanted screen shots and brought my SD media to record and take with me for my blogs. We were into what looked like stripers. I began trying to get the screen shot to work on his Lowrance HDS 8 gen 1.
Part of the fishing adventure was to locate breaking stripers that suddenly appear. Casting rod at the ready with a pencil popper. Found a few breakers, but couldn't get 'em to hit.
But, the baits were in the water!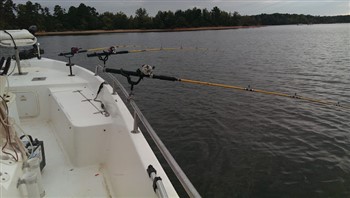 The approach was to use the procedure I use for both my Lowrance HDS 9 Gen 2 or Simrad nss7 evo 2. Nothing worked. All I accomplished was to lock Bills sonar and he was pissed to say the least. "Never touch another captains electronics!" Yeah, but my phone camera wouldn't take decent photos of the display!
Bill is saying "Ya can't fry screen shots!". All I accomplished was to lock the HDS 8 gen 1. Finally had to remove the power cord so the Lowrance would restart and restore Bill's favorite settings.
Went to the internet to relearn screen shots as I had the HDS 8 Gen 1 for years and made lots of screen shots. I knew it could do screen shots. Yep, ya gotta toggle from the system/settings, etc. to turn it on. This makes the power button the shutter. Of course, ya can't shut the unit off until ya go into the system and toggle the screen shot option off. Not getting any hookups, so Bill was reluctant, but let me turn the screen shot option on. It worked and I made a few screen shots, thought long after all the really active stripers were history. Think there's a means to scroll back in the sonar history to look at what was on the screen, but that's another knowledge base I have to learn.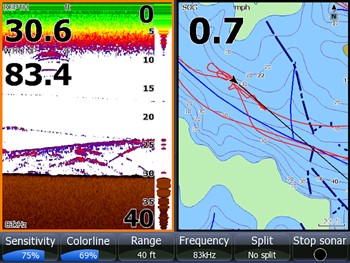 Ya can see that we had several down lines over a few fish that seemed active.
Kept moving about and Bill noticed a boat in most every cove. That's certainly not what we expected or wanted for a week day. Also, Bill noticed that the partially cloudy had changed to complete overcast, almost like it was going to rain? Well, rain, it did! Bill had given his rain coat to his grandson Richard earlier to get warm. Now with rain, Bill couldn't find another. I wasn't prepared and had to take the soaking, but put my wallet and phone in my cooler. It didn't let up and the monsoon threatened to fill the boat. My Kahr 9 was as drenched as was I. The 9 is always useful at a launch before daybreak. Finally, Bill agreed to open the bimini to ward off the continuing deluge. After an hour of this, the rain stopped, partially cloudy returned and the sun warmed everything. The boat back on plane had most of my clothes dried except for my sneakers. They were to stay water logged for the rest of the day.
By this time, the wind kicked up and looking for breaking stripers was impractical.
So, with screen shots on my media and enough frustration for everyone,we headed back to the launch, called it a day. A tall brew was in order to sooth the frustrations I caused and those that the lack of boating a striper caused. Even getting drenched with rain, it was a great day on the water.
Back home, Bill bagged 12 dozen herring left over from our adventure. He negotiates something with a local bait shop for the frozen creatures. Don't know if they work for bait, most say they don't.
Now it's back to Lake Anna to continue my education about stripers in a completely different kind of lake.