Post by GhostComanche©® on Feb 4, 2021 15:54:50 GMT
It's double-play time on North Carolina's Kerr Lake
by Craig Holt at
www.CarolinaSportsman.com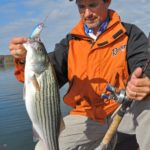 There may be no better twin-killing for fishermen this month than striped bass and largemouth bass on Kerr Lake.
Largemouth and striped bass feed together at one of North Carolina's largest lakes during late winter and early spring, but few anglers know.
Catching bucketmouths and rockfish on the same lures is possible at John H. Kerr Reservoir, aka Buggs Island Lake, if conditions are right — and that's usually from December through March, when water temperatures hover between 45 and 50 degrees.
Guide and former bass pro Joel Richardson of Kernersville has fished Kerr for 25 years, taking friends and clients to the 49,500-acre lake that runs along the North Carolina-Virginia border an hour or so north of Raleigh. But the lake is so big, it took him a while to find the places where largemouths and stripers share the same dinner table. And only during the last three years, after bass and stripers rebuilt their numbers from a bout with largemouth bass virus and a copepod (gill lice) infestation, has Richardson found 5- to 10-pound rockfish and decent-size largemouths together.
"The key now is when the water temperature has been in the 30s, and we have three or four days of warm days and nights in a row," Richardson said. "That causes the baitfish to move onto the flats (and) makes all the difference in the world because it pulls shad into shallow water and bass and stripers follow.
"When they're hungry, stripers are crazy to eat," he said. "I've caught stripers in early March on the flats when they'd have big gizzard shad tails sticking out of their mouths. They'd be completely full of baitfish but still eating, and bass would be mixed in with them. I guess both were feeding up because of the spawns that start the next two months."
In April, stripers will move upstream into the Dan and Staunton rivers, and in May, largemouth bass will head for the backs of shallow coves along the lake's 850 miles of shoreline.
Richardson keeps tabs through a fishing buddy who lives near the lake.
"I'll call him, or he'll call me, and if the bite's good, I'll contact clients," he said.
In 2014, Richardson rushed to Buggs Island because he'd gotten word that a warm front lasting several days had broken the grip of freezing weather, putting bass and stripers on the prowl. He took Neal Stockton, who had retired as police chief in Richardson's hometown after 38 years, to Butcher's Creek.
"We started finding bass and stripers at the mid-section of the creek, up on flats that were 6- to 10-feet deep close to the deeper creek channel," said Richardson, who fished under partly-cloudy skies, a southwest wind and an air temperature of 50 degrees. "We caught 2 1/2- to 5-pound largemouths and 6- to 10-pound stripers."
Richardson estimated that they caught nearly 30 fish while casting shad-pattern Bomber Speed Shads, Rat-L-Traps and Model 6A Bomber crankbaits. Richardson said at times he'll also throw soft-plastic swimbaits such as Little Fishies and Alabama rigs."This Speed Shad is a lure stripers can't resist, and bass will hit it, too. It was one of those days when we had conditions exactly right," he said. "It was a blast. We also had the lake mostly to ourselves. There weren't a lot of people throwing shallow-running crankbaits in coves and flats and catching bass and stripers."
Richardson said they had no idea stripers would be mixed with largemouths.
"We went to catch bass, not stripers," he said. "But now that I've done it, I'm always looking (for similar conditions) — water warming at the surface, shad moving to it, and bass and stripers following."
Another key is slightly stained water color. The lake gets dirty runoff from all directions, and wave action against its famous, red-clay banks also adds color.
"Stripers and bass are sight-feeders and sense baitfish vibrations," Richardson said, "so you don't want extremely clear water if you're throwing lures. But you don't want water that's too muddy. In those conditions, I like to throw lures that are visible and have a lot of vibration."
Another key factor, he said, is a light wind.
"I like light winds for this kind of fishing," Richardson said. "You don't have to have wind, but I think it helps because this time of year, the wind usually pushes warmer surface water into coves where it piles up, and (it) pushes baitfish into shallow coves."
Richardson's favorite tackle for both species includes medium-action, 7-foot Shimano Clarus rods and Shimano reels with 5-to-1 or 6-to-1 retrieve ratios. He spools his reels with 10- to 12-pound monofilament.
He prefers fishing for late-winter striped bass on the northern side of the lake, in creeks just west of the dam, because the northern shoreline gets the most sunlight in winter and warms quickest, but he doesn't throw lures right to the bank.
"Most people fish too tight to the bank," he said. "They'll be sitting on top of (the fish) and casting to the shore, but bass and stripers will be suspended under them from 10- to 14-feet deep. That's why a Speed Shad and a jerkbait work so well.
"A Storm Wildeye Shad in natural shad patterns is a good choice to catch just stripers on flats. Also, if we want to concentrate on stripers, a 3/8-ounce bucktail or 3- to 5-inch swimbait with a 3/8-ounce jighead also will catch deeper fish.
"When I'm throwing Little Fishies, I put them on ¼- to ¾-ounce jigheads, rig them weedless and use 10- or 12-pound-test monofilament. It's deadly on stripers."
He also likes the water level at Buggs Island to be a "little high," from normal pool to above 5 feet up.
"I think you can pinpoint the stripers better if the water's high," Richardson said. "That'll put about 5 or 6 feet of water in the bushes and trees. It also means baitfish will be on the flats in front of that type of cover. When the water temperature is 46 to 55 degrees, that's prime.
"It comes down to knowing the lake and where those types of places are likely to be because they'll also have bass."
When he cruises the lake, Richardson also watches for two types of birds: sea gulls and loons. Their presence nearly always indicates gamefish.
"If you see gulls diving and splashing, go there as quick as you can," he said. "Stripers usually will have a school of baitfish cornered and slash through them. They force baitfish toward the top; the gulls will see them and dive on those baits and pieces of baitfish.
"Loons apparently know when stripers are feeding on baitfish 10- to 15-feet deep. Loons swim around on the surface, then you'll see them dive. Stripers seem to be near where you see loons; it's a good sign to see loons at Buggs."
These conditions end when stripers start their prespawn migration in April, when they head west into Buggs's two main feeder streams, the Staunton and Dan rivers.
"Stripers and bass will be together until the stripers decide to leave," Richardson said. "One day you'll find stripers and bass together, and the next day, the stripers pick up and leave and you can't find one until summer."
"When they leave, everybody switches to prespawn bass, fishing a little nearer the shorelines, throwing soft-plastics or shallow-diving crankbaits or spinnerbaits," Richardson said. "Bass go on the beds in May and will be in the bushes or gum trees in 1 to 2 feet of water."