Post by GhostComanche©® on Jan 31, 2021 21:56:40 GMT
Early winter striped bass
by Mark Taylor at
majorleaguefishing.com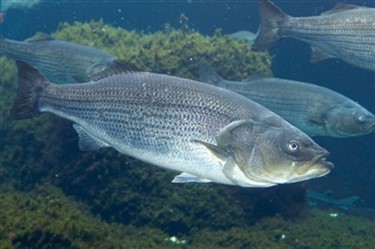 Virginia's stripers can produce many trips of a lifetime
Standing at the helm of his 21-foot-long bay boat, Claude Bain leaned on the throttle and scanned the horizon.
"They're up here somewhere," he yelled above the roar of the wind and the engine. "All we have to do is find them."
On this unseasonably warm morning in early December, we had just rolled out of Virginia Beach's Lynnhaven Inlet and into the wide mouth of the Chesapeake Bay in a quest to battle giant striped bass.
But first we had to find them.
For the past week, a huge school of menhaden had been in the lower bay, ebbing and flowing with the bay's tidal shifts. The school was acres across and more than 10 feet thick.
Mixed among, under and around those tightly packed, greasy forage fish were monster stripers – lots of them.
Fortunately for us, all we had to do to find the menhaden and stripers was find the swarm of fishing boats tracking the fish. Bain said the armada was probably somewhere around Cape Charles, a quaint fishing village on the bayside of Virginia's Eastern Shore.
If anyone would have the latest information, it would be Bain. He's head of the Virginia Saltwater Fishing Tournament, a Virginia-run program that tracks trophy catches and the constantly changing fishing scene in the bay.
We were looking at a potential run of more than 30 miles to reach Cape Charles; but it didn't last that long.
"I think I see boats," Bain said when we were still 10 miles south of Cape Charles.
Perhaps 200 boats were already on the scene, but the boats were spread out over a good square mile of the bay. That's how huge that menhaden school was.
"Oh man," Bain said, pointing at the screen on his sonar unit. The depth reading said 15 feet, which was odd. The bay should have been more than 50 feet deep there.
"That's not the bottom," Bain said, ominously. "That's fish."
Our trolling rods were already rigged, so all we had to do was drop the lures overboard, let out some line and hold on.
"Get ready," Bain said.
I braced myself, and seconds later a 20-pound striper tried its best to jerk the rod out of my hands.
We netted the fat fish five minutes later; its silvery flanks covered with sea lice, indicating it had just come into the bay.
"It's going to be a good day," Bain said, smiling.
We'd drifted out of the school during the fight, and getting back on the fish took just a few minutes.
As we let out our lines, an angler on a nearby boat let out a whoop as he pulled a 30-pounder aboard. He posed for a picture and dropped the fish back into the bay.
Then it was Bain's turn to boat a 25-pounder.
This day had the potential to be one of those trips of a lifetime. When you're fishing for striped bass in the Chesapeake Bay in late November or early December, every trip has the potential to be a trip of a lifetime.
In a typical year, Virginia anglers will register at least 500 stripers of 40 pounds through the Virginia Saltwater Fishing Tournament.
Fishing for rockfish is so good nowadays it's hard to believe the Atlantic's striped-bass fishery was next to dead less than two decades ago – a victim of habitat degradation, pollution and over harvest by commercial and recreational fishermen.
The situation became so dire that in 1985 Maryland imposed a complete moratorium on striper fishing while Virginia banned fishing in spawning areas. Virginia implemented a complete moratorium four years later.
Stripers immediately started to recover. In 1989, Virginia and Maryland lifted the moratoriums and allowed limited recreational and commercial fishing seasons.
By the mid-1990s, fishing was great – especially for small, "schoolie-sized" stripers in the 3- to 5-pound range. Fishermen casting plugs and bucktails around structure in the lower Chesapeake Bay could expect to catch a couple dozen fish a night. And, there were still enough bigger fish around to keep things interesting.
Big-fish frenzy
Those bigger fish were the ones that appealed to Carl Herring, a resident of Suffolk, Va., and a legendary tidewater fisherman.
Now retired, Herring was a brilliant engineer who worked at a local shipyard, but he didn't exactly look the part. He towed his old center-console fishing boat with an aging, rickety, four-door sedan.
Herring's fishing mind has always been incredible. Unlike those of us who keep written fishing journals, Herring keeps all those details in his head.
At a meeting of the Tidewater Anglers Club one night, I cornered Herring and started peppering him with questions about striper fishing. Since I didn't have a boat at the time, I mostly asked about surf fishing tactics and areas.
Drifting bucktails and plugs around bridge pilings is a great way to take small- and medium-sized stripers, such as this 9-pounder the author, Mark Taylor, caught during Thanksgiving week.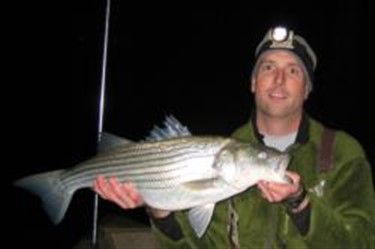 "Why don't you just go fishing with me?" he finally asked. "Just meet me at Cobb's Marina at 6 p.m. tomorrow."
When I got to the small marina at Little Creek Harbor in Norfolk, Herring already had the boat in the water.
"I hope you've got some warm clothes," he said sternly.
I did – a set of bright orange military surplus floatation coveralls.
They were also waterproof, which was a good thing because Herring planned to motor all the way across the bay to what's known as the "high-span" section of the Chesapeake Bay Bridge-Tunnel, a 17.6-mile-long monstrosity that connects Virginia Beach to the state's Eastern Shore. The bridge-tunnel has been called the world's largest manmade fish attractor.
This would be a good 45-minute run in Herring's boat, which was powered by just a 40-horsepower outboard.
A stiff north wind had whipped the bay into a froth, so about every 15 seconds a wave of frigid seawater would crash over the bow and slap us in the face. Herring wouldn't flinch.
By the time we got to the high span, the wind had eased – in part because we were in the lee of the tip of the Eastern Shore.
Herring handed me a big trolling outfit, the reel filled with thick wire line. He reached into a five-gallon bucket and pulled out a lure, still in the box.
"Tie this on," he said, handing me the lure.
It was an original, jointed Creek Chub Pikie Minnow – a valuable antique.
"Are you crazy?" I asked.
He didn't smile.
"I found them in a tackle store that was going out of business," he said. "I didn't buy them to look at them; I bought them for fishing."
And fish we did, trolling those antique lures in and out of the bridge's pilings for the next 10 hours.
Action wasn't fast, but about every 30 minutes a fish would slam one of the lures. These were not small fish, either.
We got about 15 stripers into the boat, releasing all but three. Other than one 12-pounder, they were all at least 20 pounds. Herring caught and released the biggest fish of the night – a fat sow that weighed at least 35 pounds.
Dawn – and the end of the trip – came too soon.
School's in session
On another trip a couple of years later we never made it to dawn. On a dead calm afternoon during Thanksgiving week, my visiting brother Greg and I headed out into the bay in a small aluminum utility boat I'd rented at the naval base at Little Creek.
Greg had never caught a striper, so I tied on our sure-thing lure, a Mann's Stretch 25+ plug.
We hadn't trolled 30 feet along the Chesapeake Bay Bridge-Tunnel when a 3-pounder plastered the thing.
So began a striper onslaught the likes of which I had never experienced before, nor have I since.
For five hours, we caught 3- to 5-pound fish on almost every cast. Whatever we tried – bucktails, plugs, fly – rod streamers – the fish hammered.
Greg started dipping his shad lure in the water next to the boat and swirling it around at one point and a half-dozen fish chased it.
The boat was so small we couldn't go far out along the bridge to look for bigger fish; so we just caught schoolies until our arms and backs ached and called it an early night.
That summer a new job drew me to Virginia's mountains, nearly five hours away from the coast.
Exploring the region's trout and smallmouth-bass streams that autumn was fun, but when Claude Bain called in early December to say the big stripers had arrived, I dropped everything and headed east.
A day later we were out there with 200 other boats enjoying world-class fishing.
As we trolled that afternoon, the action wasn't non-stop, which made sense. With so much natural food around, our lures were like the proverbial needles in a haystack.
The best fishing came when we trolled around the edges of the menhaden school. Our giant and colorful spoons and shad-shaped lures were better able to stand out in those areas.
Bain and I took turns fighting the fish, and it was his turn when one of the rods bucked violently.
"Go ahead and take it," he said.
The fish seemed much stronger than those we'd already fought. When I finally got the fish close to the boat, we could see why – it was a monster.
Bain scooped the fish into his giant landing net.
The tape stretched to 46 inches, easily topping the minimum size for a release citation for Bain's awards program.
"It's a good thing you caught her," Bain said, laughing. "I can't give myself a citation."
After a few pictures we put the fish back into the chilly bay, and she swam slowly into the depths.
For many striper fishermen, that was a fish of a lifetime. In the Chesapeake Bay in early December, there was a chance it wouldn't even be the fish of the day.
We got our gear in order, played out the lures and got back to trolling, not yet ready to end another trip of a lifetime.
Virginia's Striper Fishery
Virginia's late-fall and early winter striped-bass fishery is all about water temperature.
After all, it's the arrival of cold fall weather that pushes forage fish – and the big stripers that follow them – south from their summertime haunts in the waters off New England.
Traditionally, the migration of big stripers reaches the mouth of the Chesapeake Bay around Thanksgiving, but it varies from year to year based on the weather.
A cold early autumn can push fish into the bay by the middle of November, while their arrival might not come until December during a mild year. They usually stick around until water temperatures hit the low 40s, at which time they head for deeper, warmer water off the beaches of Virginia and North Carolina.
In the Chesapeake Bay, the bait and stripers often congregate around the 17.6-mile-long Chesapeake Bay Bridge-Tunnel.
At night, lights from the bridge shine into the water, attracting baitfish, which attract stripers. On calm nights, it is often possible to see stripers hanging in the shadows.
A popular technique for targeting those piling-hugging stripers is to anchor on the upcurrent side of the pilings and drop bucktails back toward the pilings.
The stripers are in ambush mode, waiting for current to deliver their meals, so strikes often come as the lure is being allowed to drop back in the current.
Trolling is another popular technique and can often produce larger fish. Most trollers work parallel to the bridge pilings, on the upcurrent side. The trick is to keep the lures as close to the pilings as possible without hanging up. This technique requires a vigilant and experienced boat driver.
The Mann's Stretch series and similar plugs are effective for trolling along pilings. Other popular plugs include huge lipless crankbaits and big jointed swimming plugs.
Trolling is also a popular way to target big stripers that are relating to schools of baitfish in open water in the bay or near shore.
The fish are often feeding on menhaden that can be 15 inches long, so big plugs will work. Another tactic that has gained popularity in recent years utilizes a dual-lure Mojo Rig. Weight is provided by a 12- to 24-ounce painted leadhead, which may or may not be skirted. The leadhead is tied to a short, heavy leader, which is attached to a three-way swivel. A hook directly behind the leadhead is dressed with a rubber shad lure that is at least 10 inches long.
A 10- to 12-foot-long leader is attached to another eye of the leader, running to a huge spoon.
In early 2006, Clay Armstrong of Mechanicsville, Va., was trolling such a rig off Virginia Beach when he hooked two giant stripers at once. One of the fish weighed 68 pounds, 1 ounce, easily setting a Virginia state record.
Because stripers are so willing to hammer artificial lures, many fishermen don't bother fishing with live bait. However, using live bait is a proven method for taking big stripers.
Fishing weighted live eels around the structure of the Chesapeake Bay Bridge-Tunnel has long been a popular tactic for targeting big stripers.
In recent years, some fishermen have had great success on big stripers by fishing eels suspended under slip floats around the bridge-tunnel and in some of the deeper channels around the mouth of the bay.