Post by GhostComanche©® on Jan 31, 2021 18:57:37 GMT
Virginia Beach Striper Fishingby www.VirginiaBeachStriperFishing.comWelcome anglers to the fun and fast paced action of Virginia Beach striper fishing. The Virginia Beach Striped Bass fishing grounds offer some truly exceptional fishing for all anglers be they seasoned pros trying for the next state record or just novice weekend anglers looking to have fun with some buddies while enjoying some great rockfishing action.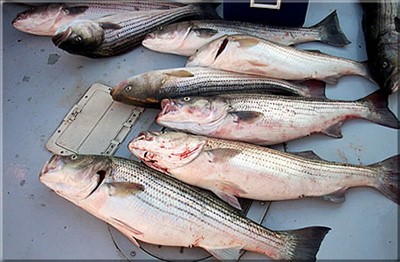 What is it about Virginia Beach striper fishing that draws so many visiting anglers and sportfishermen to the area year after year?
Is it just the great striper fishing? Well in this case we would have to say yes. Being it is usually winter time when these big trophy striper show up there is not a whole lot else to do but go striper fishing.
This time of year most people aren't visiting to have a nice tropical vacation. It is too cold for that and all the best summer time attractions are closed, the pools are all closed which only leaves one thing to do. And that is to go striper fishing in Va Beach.
Unlike summer time vacations with family that usually include a fun Virginia Beach sport fishing trip these winter time striper fishing trips to Va Beach are usually quite a bit different. Not always but most of the time you will find that these anglers on the hunt for trophy rockfish are a bit more serious about their fishing.
They come here with one thing on their minds, catching big striper. In the summer you may find these same anglers but in the summer they are more relaxed, not quite as serious, or they are entertaining family. That is not true in every case but in the majority. The bottom line is that Virginia Beach striper fishing usually involves anglers with a lot more attitude and a much more serious "fishing" personality.
Virginia Rockfish Tournaments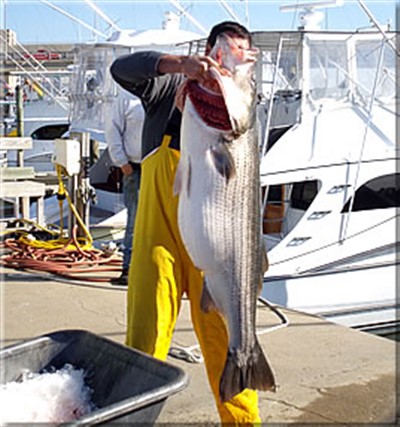 In the mid Atlantic region, Virginia Beach provides an unparalleled fishing experience in many angler's minds. Virginia Beach is able to provide this provocative fishing experience due to the many opportunities that the area provides to both first timers to the most seasoned of anglers.
There are many types of fishing which draw anglers to Virginia Beach. To many anglers, the winter season is often the resting period, where they are forced by mother nature to put up their rods for the season and wait for warmer weather. Not so in the Virginia Beach fishing region.
During the Virginia Beach striper fishing season, you will find tournaments up and down the east coast, with one of the largest, if not the largest striper tourney held in January in Virginia Beach! For a couple of days, the Annual Virginia Beach Rockfish Tourney attracts hundreds of boats looking to score big in the tournament.
Boats and anglers from across the country, some literally from the west coast – come to get in on the awesome Virginia Beach striper action. To satisfy these anglers urge to score big striper there are a few fishing charter services that specialize in striper fishing and are for hire to even fish the various striper tournaments in Virginia Beach and other coastal cities.
Chesapeake Bay Striper Fishing
The Chesapeake Bay is known across the world to many people and to very many anglers. The Bay is 20 miles across at the mouth and has the famous Chesapeake Bay Bridge Tunnel, once considered a wonder of the world, and still considered a wonder of the fishing world. This bridge, with its underwater tunnels surrounded by rocks and debris, serves as a veritable menagerie of fish, drawing anglers from across the nation. This habitat is the perfect setting for rockfish and has held big rockfish for decades, well since it was constructed in the sixties.
Fishing in the Chesapeake Bay is likely to net you a variety of bottom feeding species that move in and out of the Bay. For striper fishing in the Chesapeake Bay the bridge tunnel is perfect with it's many sunken rocks and many thousands of bridge pilings. The trick is to fish the rocks with live bait or artificial lures which will usually yield some nice sized striper. Another method is poping a lure up to the bridge pilings as rockfish feed on smaller fish that feed off the pilings. It makes for some fun fishing and good action on light tackle and many anglers prefer this to the trolling anglers do in the ocean. Whatever method you enjoy most our Captains can accommodate you and your party.