Post by GhostComanche©® on Jan 30, 2021 1:49:48 GMT
Winter Striper Fishing Off Virginia
by Martin Freed and Ruta Vaskys at
Guide.SportsmansGuide.com
The gentle ocean roll was mesmerizing as our boat passed through Virginia's Quinby Inlet and then beyond the breakers out into the open Atlantic.
It was late December and we finally had a break in the weather. A nor'easter (a strong storm) had been blowing for almost a week and while it was very conducive to black duck hunting, it sure put a damper on our fishing activities. Tough life isn't it?
We were heading out to troll for late season striped bass that pass through our area. The run usually starts in November and may continue through late January or even February if the weather cooperates. One of the great pluses of this fishery is that very few participate. However, that may not be an advantage if your motor fails somewhere offshore with no one else around. Thus, you must make sure that everything on your vessel is in perfect working order. Things can go wrong even under these circumstances, but you are really asking for trouble if you leave the dock with potential problems.
Bruiser Stripers Roam
Almost all the stripers in this run are over the 28-inch minimum size and some are 40-pound to 50-pound bruisers! They are not easy to catch, however, and you may troll for many hours before getting a hit. However, if you figure out where they are located, limits can be in the picture.
The basic, and most popular, technique is to head out to the sea buoy of an inlet and then troll to the open ocean marker at the next inlet, north or south. This is about a mile off the beach in our area.
Most striped bass trollers use large, fish-like plugs. The ones with big lips that force them to dive deep are usually preferred. The most popular colors are silver blue and silver green with black backs. Mackerel patterns are also productive.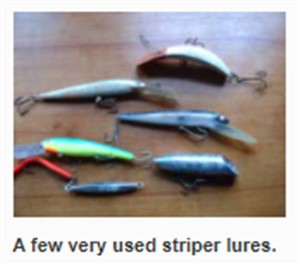 Leadhead bucktail and plastic lures also work well. We prefer 8-ounce jig heads with a red, white, green, or purple genuine bucktail.
Some anglers use a live or frozen eel on the hook of the leadhead. Even an inside out eel skin is effective.
A popular technique is to move down the beach, with you fish finder on, and watch it carefully. A rockfish may be spotted and you can adjust the depth of your lure to get it down to the correct depth. And then troll in a circle around the area.
Try Off Parramore Island
One day a few years ago, we trolled for a number of hours between the sea buoys of Quinby and Wachapreague Inlets without success. We started in, but decided to make a few swipes around the southern point of Parramore Island right inside Quinby Inlet. We slowly let out our lines and immediately both of our big plugs got hung on the bottom. We did manage to save the $20 worth of lures and also learned a good lesson. Don't use the same rigs inshore that are used off the sea buoys — they just run too deep.
After this experience, we changed to jigs in the 1-1/2-ounce range. Within 15 minutes, we each had a legal striper — not bruisers like many offshore, but between 30- and 35 inches.
Surfcasters can also get in on the action, except at Assateague National Seashore, where it could be difficult to access the beach without a boat. Most of the barrier islands off the Eastern Shore of Virginia are now owned by the Nature Conservancy and are therefore private property. Some of these areas are environmentally sensitive, so please stay in the areas that are tidal, and there will be no problem.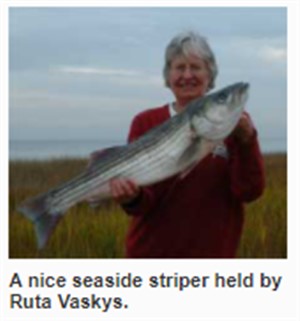 While some cast jigs and plugs into the surf, most simply bottom fish. A fish finder rig with a 2- to 8-ounce pyramid sinker is just the ticket. A 4/0 or 5/0 beak or Mustad UltraPoint hook with a turned up eye appears to work best. Some use a long shank because a few marauding blues can be around.
If the late fall and winter are not too cold, and if you can pick a few relatively calm days when the winds are under 15 knots from the westerly quarter, don't put away the rods. Get yourself down to the Eastern Shore of Virginia and do a little numb-fingered striper fishing.