Post by GhostComanche©® on Jan 29, 2021 22:55:56 GMT
Catch Virginia's Trophy Saltwater Stripers!
by Charlie Coates at
www.gameandfishmag.com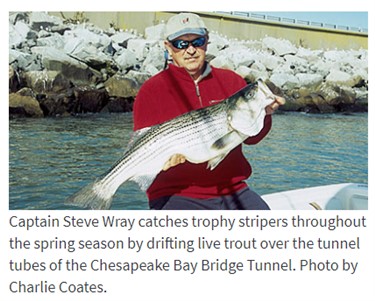 Most of the Atlantic coast's striped bass migrate up the Chesapeake Bay's tributaries each spring to spawn, then migrate back out after the spawn. Smart anglers are there and ready for 'em.
For Virginia's Chesapeake Bay anglers, May doesn't arrive soon enough.
It's the month the bay comes alive, as large specimens of game fish from the Atlantic Ocean start pouring into North America's largest estuary.
But while many anglers wait in ambush for favorites such as red and black drum to arrive from the sea, a loyal contingent of striped bass aficionados will be looking for action coming from the other direction. The object of their attention is the return of striped bass, many in the 40-inch class, from their spawning chores in the upper reaches of the bay's tributaries.
From May 1 through May 15, anglers are allowed to keep one striped bass per person measuring a minimum of 32 inches. From May 16 through June 15, possession limit is two fish between 18 and 28 inches, or one fish between 18 and 28 inches and one fish over 32 inches.
The early part of the season is especially appealing to anglers in Virginia's upper portion of the bay. Accustomed to waiting their turn for migrating fish to reach them from the ocean, they welcome this rare opportunity to get the jump on their lower-bay counterparts.
SMITH POINT
No Virginians are better positioned to take advantage of the early spring trophy season than those in the Smith Point area. Situated at the uppermost portion of Virginia's western shore and surrounded by water on three sides, this peninsula known as the "Northern Neck" is ideally located to intercept post-spawn fish coming down the Potomac and Rappahannock rivers, as well as those leaving Maryland's bay waters. As an added bonus, during springs when cool water temperatures delay striper migration (such as in 2005), a reciprocal license agreement between the two states allows Virginia anglers to fish the more productive nearby Maryland waters until the action moves south.
Because the larger stripers are moving rapidly in the spring, and not holding in any particular area, trolling is the favored method for catching them during the first few weeks of May. With menhaden ranking high on the striper's preferred diet, lures that imitate them are usually most successful. The short list includes 6- to 12-inch soft shad bodies (often pulled behind umbrella rigs) and similar-sized bucktails or spoons. White and chartreuse are the most popular colors.
Early post-spawn arrivals to the Smith Point area are usually following the main shipping channel down the bay, and most can be found in the upper portion of the water column where the water is warmer. That makes trolling the edges of the channel with menhaden imitations staggered from the surface to 20 feet deep a solid game plan.
Of course, fishing is rarely that simple.
"If there is an abundance of bait in the shallower water off the main channel, the fish will go there to feed," said Captain Ferrell McLain, who runs a charter boat out of Smith Point. "And it never hurts to run a line or two down deep. One deep rig on each side of the boat won't interfere with your main spread of lures, and you may just catch that monster lurking in the deeper water."
McLain uses two basic trolling patterns this time of year.
"I'll go back and forth across the channel, from the shallow water on one side, down the edge across the channel, and up the other side," he said. "This allows you to check and fish all depths on both sides on each pass."
McLain uses this pattern in areas where the channel is relatively narrow. A wider channel calls for a north-to-south approach that follows a particular depth contour along the channel edge.
"To be most effective, you need to know what the right depth is," McLain said. "If you catch a fish on the 50-foot contour line, look for more fish at that depth."
McLain's arsenal of lures for trolling is basic but effective. First on his list are soft-plastic shads, normally trolled in numbers on an umbrella rig.
"The more shads you can pull through the water, the better," he said. Colors are limited to white and chartreuse, in lengths from 6 to 12 inches, depending on the size of the bait stripers are feeding on at the time. He will also employ large parachute jigs and tandem bucktail rigs, again in white and chartreuse.
With most stripers traveling close to the surface, they spook easily, tending to turn away from oncoming boats. To overcome this problem, many anglers will let out extra line on their shallowest lures, giving fish time to swim back into the area the boat has passed over. Others, especially charter captains with large boats, use planer boards to get lines out away from the boat on each side. This is an effective method that also gets more baits in the water, but can be tricky for the inexperienced angler, especially when the bay is crowded.
When 18- to 28-inch fish become legal to keep on May 16, anglers must make a decision whether to continue trolling or switch over to chumming. Chumming will produce more fish, but larger ones will usually be taken trolling. In a typical year, as larger fish move south the last half of the month, more upper bay anglers will take up chumming.
The Smith Point area's geographical advantages extend to chumming as well as trolling. Anglers here are blessed with a variety of productive fish-holding structure, including shallow flats, sharp dropoffs and artificial reefs. Three rivers (Potomac, Great Wicomico and Rappahannock) feed baitfish into the bay, and also provide fishing opportunities of their own.
By far the most popular and productive chumming site in the region is the Northern Neck Reef, located approximately six miles east of the Great Wicomico River Light. A few miles farther south, the newer Asphalt Pile Reef held good numbers of school stripers throughout the spring season last year. Other chumming hotspots along the upper bay's western shore include Smith Point, Windmill Point and Stingray Point lights. The channel edges around buoy 62 were productive during the last few weeks of the season last year.
Captain McLain goes against the grain as far as some chumming maxims are concerned. While many experienced anglers insist on fresh menhaden for chumming, McLain finds frozen bait to be an asset in certain situations.
"Bait ground from frozen menhaden will float if it remains frozen," he said. "This can be good if it is used in combination with fresh unfrozen bait, or when there is a real weak tide. The frozen bait will get back farther from your boat, but will not get down deep over a steep dropoff."
Nor does McLain always subscribe to the "big bait for big fish" theory.
"Small baits catch big fish," he said. "Huge stripers are in the chum line eating small bits of free chum. Try different sizes of baits, but be sure to include small pieces on small hooks."
When it comes to technique, McLain is back in line with most serious striper chummers. That means keeping the chum slick going constantly, and keeping the bait moving to match the speed and rate of descent of the chum. This will require adjusting your sinker weight from none at all to a couple of ounces, depending on tidal current speed. He also advises holding the rod constantly, slowly letting out line.
"Rod holders catch a few stupid fish sometimes," he said. "But you will catch a lot more if you actively fish for them."
HEADING SOUTH
As water temperature continues to rise in late May and early June, migrating stripers will move south toward the ocean. Unlike during the fall migration, these fish are in a hurry to get to their summer homes up the Atlantic Coast, and won't linger as long around the mouth of the bay. Fortunately for anglers fishing out of southern ports, such as Hampton, Norfolk, Virginia Beach and Cape Charles, these fish find it hard to pass up the easy meals available around the myriad structure of the lower bay, notably the bridge-tunnels of the Tidewater region.
The Hampton Roads Bridge-Tunnel (HRBT), which crosses the mouth of the James River to connect the cities of Hampton and Norfolk, is a popular location for intercepting stripers as they migrate in and out of the river during May and June. Nighttime anglers score here by working plastic or metal jigs along the pilings or around the rocks at the tunnel, and chunking with pieces of menhaden is effective during the day. The HRBT and abundant other structure in the area will hold resident stripers all season. Several artificial reefs and productive shoreline between the James and Back rivers provide easy access for anglers in small boats.
When it comes to big-fish structure, however, the Chesapeake Bay Bridge-Tunnel (CBBT), connecting Virginia's Eastern Shore with the mainland at Virginia Beach, has no equal. Nearly 18 miles of pilings and rocks, intersected by the bay's deepest channels, combine to make this complex one of the world's great fish magnets. An abundance of eddies, shoals, submerged boulders and the rips they create make the area even more appealing to striped bass.
Most migrating striped bass will stay in the fast lane when passing over and under the CBBT, but many will decide to take up housekeeping at this giant buffet table. And while most of these resident fish will be "schoolies" in the 18- to 25-inch range, enough larger stripers will stick around to keep anglers entertained throughout the summer.
SO MANY CHOICES
While still a viable option, trolling is not as prevalent in this region during the spring season as it is farther up the bay. Those who do choose to troll for migrating fish often find themselves spending much of the day chasing schools of stripers that are rushing to get in and out of the bay. Chumming and chunking also produce limited results when fish are on the move. There are more productive, and arguably more enjoyable methods to employ.
Casting is popular around the bridge-tunnels, especially the CBBT, where tons of rock and granite riprap and thousands of concrete pilings offer plenty of targets. Baitfish hold tight to this structure, and their striped predators cruise along the edges, waiting for current or wave action to flush them out.
Soft shad imitations, bucktails, surface poppers and diving plugs can all be effective, but whichever you use, it is important to get the lure as close to the structure as possible, preferably within 2 feet. Mornings and evenings are most productive. Be sure to work the whitewater areas on the upcurrent side of the islands where stripers will be looking for easy pickings. Similar conditions should be available over the rocks that cover the tunnel tubes where they enter the water.
While casting can provide constant action, most of the stripers you catch will be relatively small. Many seasoned CBBT regulars use live bait for larger fish, at least some of the time. Others rely on it exclusively.
Captain Steve Wray, a Virginia Beach native who has been running charters here for more than 20 years, counts himself among the latter group.
"Live bait is the thing for me," Wray said. "I use it throughout the spring season. Most of the stripers around the CBBT this time of year are smaller resident fish. You can target the bigger ones with live bait."
While most live-bait anglers rig up with croaker or spot, Wray prefers to use gray trout because he believes that is what the stripers are looking for. There are plenty of trout available this time of year on the large shoal at the 12 Mile Post. The problem is finding enough that are at least 12 inches long, the minimum size that can be legally kept.
"The 12-inchers were more plentiful last spring than they had been in previous years," Wray said. There were still plenty of throwbacks, though, so many anglers don't bother.
That's just fine with Wray, who has found a 12-inch trout to be the ideal length favored by bigger stripers. Wray begins his charter trips by having his party jig for trout at the 12 Mile Post using small soft-plastic swim shad rigs. Each angler is allowed to keep seven trout, which are held in a livewell. Then they are off to one of the CBBT's two tunnel tubes that carry traffic under the bay.
Wray's favorite hotspot for live-lining is a portion of the tube near the third island, where a flat area about 45 feet deep is a hangout for big stripers.
Once Wray marks fish on his electronics, he pulls the boat upcurrent and drifts the baits back over the tube on a three-way rig. He employs a level-wind reel that allows him to keep a tight line over the rig-stealing rocks and to feel a striper mouthing the bait.
"It's important not to set the hook too soon when you first feel a bite," Wray cautioned. "Lower the rod tip, give some slack, and let the striper have time to get the bait all the way into its mouth."
Wray also stresses the importance of a moving tide for live-lining.
"You need the tide to be running," he said. "When there's no tide or current, you can run to the islands and cast plugs or swimming shads to the rocks until it starts moving again."
The Virginia Saltwater Fishing Tournament awards citation plaques for striped bass weighing at least 40 pounds or for rele
ased fish measuring 44 inches or more. The state record, which was broken each of the last two years, stands at 63 1/2 pounds.
FOR YOUR INFORMATION
A good map or chart is an invaluable aid in locating channels, dropoffs, reefs and other structure where striped bass can be found throughout the season. ADC's waterproof Chartbook of the Chesapeake Bay is available at most tackle shops around the bay, or by calling GMCO Maps & Charts at (888) 420-6277.
Regulations pertaining to striped bass fishing are reviewed throughout the year and are subject to change at any time. For information on the most current regulations, or for information on the Virginia Saltwater Fishing Tournament, call (757) 491-5160. The Virginia Marine Resources Commission's Web site is an excellent source of information for anglers, including current regulations, details of the Virginia Saltwater Fishing Tournament, and locations of boat ramps and artificial reefs. Visit the site at
www.state.va.us/mrc
.